The Inspiration behind La Prairie's New Store Design
2 jun 2017
Swiss Contemporary Architecture is much admired for both its innovation and sophisticated elegance. The founding in 1928 of the International Congresses of Modern Architecture in Switzerland, along with the groundbreaking work of Swiss-born modern architects, such as Charles-Édouard Jeanneret, known as Le Corbusier, introduced Swiss Contemporary architecture to the world. At the forefront of the modern architecture movement, it embodies the purity, precision and aesthetic harmony inherent to Switzerland.
Since the 1990s, the minimalist buildings of Swiss architects Herzog & de Meuron have been consistently creating a sensation on the international architecture scene. One of their most celebrated projects involved converting the Bankside Power Station in London into the new home of the Tate Modern, one of the largest museums of modern and contemporary art in the world.
Another artistic movement inspired by the dramatic landscapes found in Switzerland, the school of Land Art is a conceptual approach from the 1960s rooted in nature — one in which landscape and the work of art are inextricably linked. To wit, this month, the city of Grindelwald, Switzerland will host the LandArt Festival, during which 11 international teams will create sculptures and other works in the surrounding natural environment, using only natural and locally sourced materials.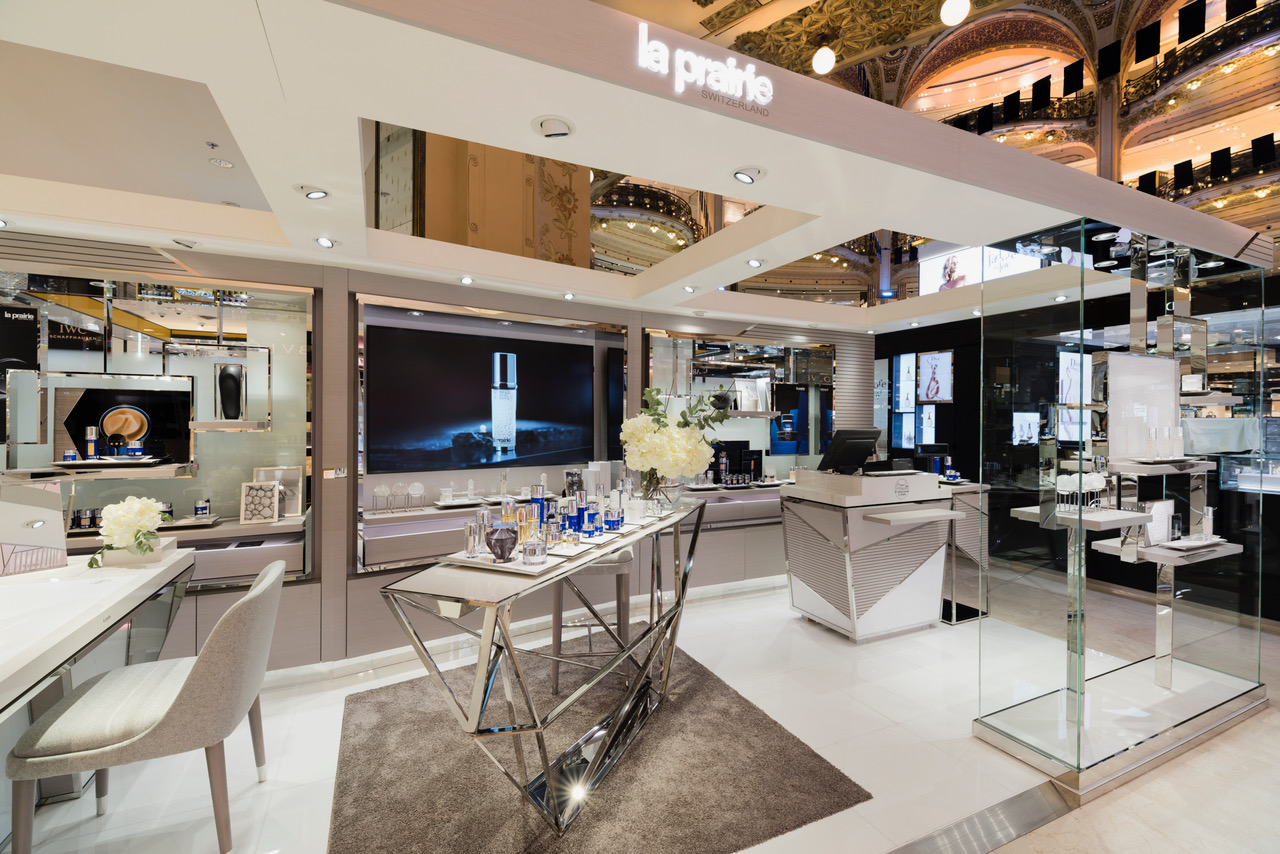 In designing its new store concept, La Prairie took inspiration from both the sleek Swiss Contemporary Architecture for its store design and the organic Land Art for its Visual Merchandising. Further celebrating the intrinsic link to artistic movements, the store is adorned with commissioned modern sculptures representing each of the key skincare collections. The entire space echoes contemporary aesthetic movements through a pristine elegance pays homage to the beauty and timelessness of the birthplace of La Prairie.
Architecture, Herzog & de Meuron, Land Art, Contemporary Art
Leia mais
An Audacious Year at Art Basel
19 jun 2017
In 1970, three passionate and determined Basel gallerists — Ernst Beyeler, Trudi Bruckner and Balz Hilt — staged an international art exhibition. It was an immediate sensation, bringing together exceptional artwork from around the world to Switzerland. In that inaugural show, more than 16,000 enthusiasts attended to see art from 90 galleries and 30 publishers representing 10 countries.
Art Basel is now one of the world's major art shows for modern and contemporary works, with unique shows also hosted in Miami Beach and Hong Kong.
Basel continues to be the premier contemporary art fair, and last week nearly 300 of the world's leading galleries descended on the Swiss cultural capital to showcase paintings, drawings, sculpture, installations, prints, photography, video and digital art by more than 4,000 artists. The galleries represented 35 countries and six continents.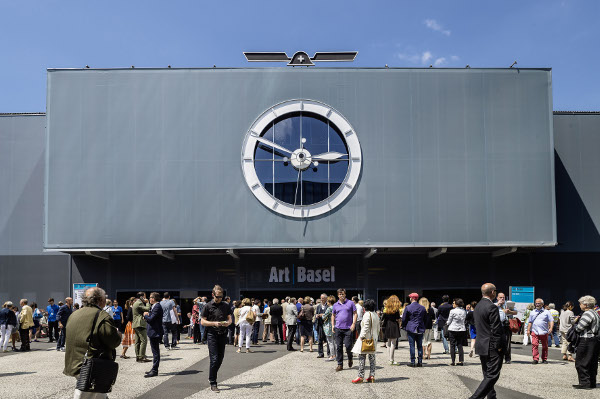 This year, amidst the talks, performances and soirées, visitors were drawn to the beating heart of the fair — the galleries that took over the Messeplatz and offered an array of raw and beautiful pieces, some of which boldly reflected the world's current cultural and political climate.
There was a palpable frisson of excitement as art connoisseurs and buyers from around the world viewed work by such legends as Picasso, Miró and Schiele, along with awe-inspiring contemporary artists at the pinnacle of their careers. These included Swiss artist Urs Fischer who reinvented Rodin's The Kiss with oil-based modelling clay and invited visitors to interact with it. They eagerly pulled off pieces and inscribed their names with it across on the walls.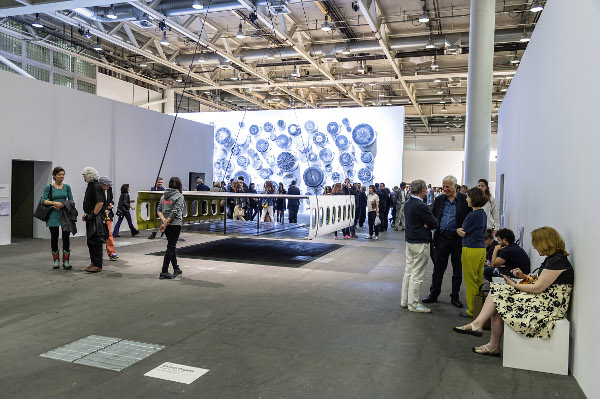 Emerging artists were also celebrated. The Baloise Art Prize, which is awarded annually to two young artists, went to America's Sam Pulitzer and Martha Atienza from the Philippines. Mr. Pulitzer exhibited a series of transparent corridors mounted with playful drawings in coloured pencil inspired by advertising, clip art and popular culture. Ms. Atienza's video installation featured a parade of characters from one of the Philippines' oldest festivals, which she shot walking across a seabed as a critical and humorous take not only on the state of society in her home country, but also on the threat of climate change.
Perhaps the most spellbinding exhibits were the enormous installations in the "Unlimited" section, such as Subodh Gupta's Cooking the World, which featured a shelter made from cooking utensils suspended from the ceiling on fishing lines. Inside, the artist cooked Indian food for those lucky enough to have secured a ticket for the live performance. The sharing of food served as a gesture of inclusion and acceptance.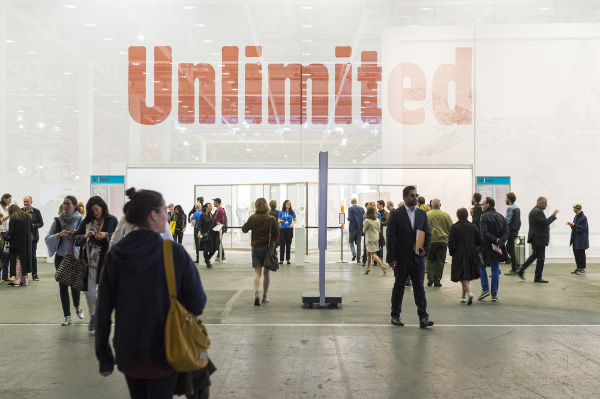 Sue Williamson's large-scale installation featuring bottles each hand-engraved with information about a different slave from the 16th to the 19th century added to the mesmerising spectacle.
Camilla Brown, 63, from Lausanne, who has been attending the fair for the past 28 years, said: "Every year Art Basel gets better and better, and this year is absolutely astonishing. There's super strong energy. Everyone can feel it.
In her mind, this was Art Basel's strongest year.
All these fantastic pieces give you so many emotions," said Ms. Brown. "The visitors are amazing too. It's quite a show to sit and watch them – they're a performance in themselves. I've been here for three days and you get a bit drunk on all the emotions you feel from everything you see.
And galleries were not the only ones showcasing electric works of art this year.
In a first-of-its-kind partnership, La Prairie — whose innovative spirit and passion for audacity mirrors the world of contemporary art — partnered with Art Basel to invite guests inside its rarefied world of timeless beauty.
Part of the fair's VIP Lounge was transformed into a transcendental La Prairie universe, where guests enjoyed customised treatments next to an audacious installation by Paul Coudamy, who was commissioned to celebrate the 30th anniversary of the brand's iconic Skin Caviar.
For his steel sculpture, entitled Living Cells, the French architect and artist uses volume to masterfully interpret La Prairie's latest groundbreaking innovation, Skin Caviar Absolute Filler.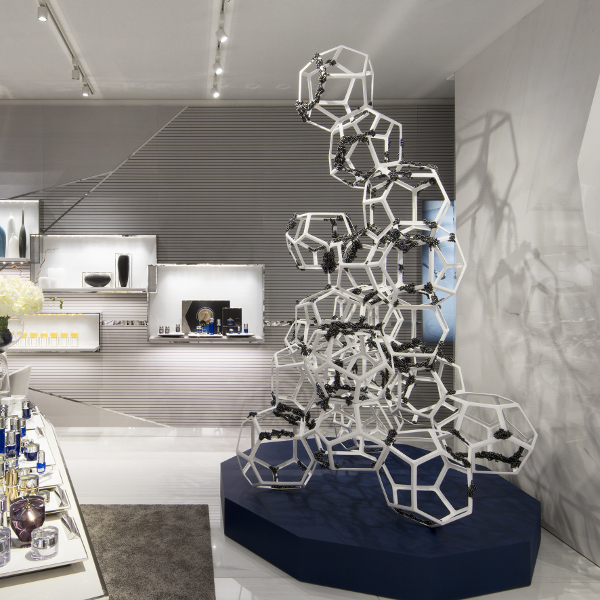 Inspired by the Weaire-Phelan structure, a mathematical formula of a complex three-dimensional form representing foam bubbles of equal size, Living Cells is comprised of lustrous black, magnetised marbles — reminiscent of caviar, another nod to its muse. The installation's captivating form and spiral structure seemed to be in constant flux, transcending its surroundings and striking awe amongst viewers.
The installation echoed the culmination of the worlds of art and science seen throughout Art Basel this year.
Art Basel, art, skincare, Basel, Paul Coudamy, Living Cells, Skin Caviar Absolute Filler
Leia mais
La Prairie Invites: Audemars Piguet
For its first edition of La Prairie Invites, the premier luxury skincare brand talks to Audemars Piguet about the beauty of timelessness.
6 set 2017
Just like La Prairie, Audemars Piguet has been inextricably linked to art from its very beginnings. With a shared vision for audacity, unparalleled aesthetics and timelessness, both luxury Swiss brands have a partnership with Art Basel — the world's premier modern and contemporary art fair — which has shows in Basel, Hong Kong and Miami.
Audemars Piguet, one of the world's most celebrated luxury watch manufacturers, has mastered the art of perfection with rule-breaking innovation.
In 1972 — 97 years after its birth — the Swiss brand dared to do the unthinkable. As part of an eternal quest to combine artistic excellence and technical expertise, Audemars Piguet launched a watch that rocked the tranquil waters of horology. It transcended the inelegant confines of the average sports watch to produce a masterpiece of opulence and engineering.
The Royal Oak was both sporty and infinitely beautiful. Treated with the reverence of gold, its steel case had an astonishing lustre. The bezel was a groundbreaking octagonal shape and the dial's tapisserie pattern captivated with its ability to reflect light. With its audacious design and breathtaking craftsmanship, the Royal Oak entered the elite club of timeless classics.
Based in the Vallée de Joux, known as the cradle of fine watchmaking, the brand continues to be revered for its innovation and sophistication. It still inspires the Royal Oak's devoted followers with regular updates and produces a limited 40,000 watches per year to ensure exclusivity across all its collections.
"I believe that luxury products have almost become a philosophical refuge from the pace of today's world," asserted Chadi Gruber, Audemars Piguet's head of product development. "Luxury means taking your time in a world where everything is too fast. We are proposing a slow perfection."
Luxuries not only make time appear to stand still — they can also produce a poetic resonance.
"The creativity of our designs and movements, and the painstaking precision and rarity of our materials, provide an escape from pure vital needs," stated Chadi.
"We create objects that allow you to travel internally, like art does. We're here to create emotions and make people travel outside the purely material and technological world. You can see the artist's soul in its work and for me it's the same thing for our watches. They include a part of the artisan's soul. I often make the analogy between our watches and art because, for me, a watch is a painting that you wear on your wrist."
The birthplace of the brand, Switzerland has become synonymous with luxury, elegance and precision because of its centuries-old culture of embracing seriousness, refusing to compromise on quality and valuing hard work, Chadi stated.
The industrious character of the Swiss, along with the harsh weather, helped them to become world leaders in horology, as farmers with a penchant for precision turned to watchmaking during the long winters.
Today, Audemars Piguet continues to create timeless elegance by never forgetting its rich past and having a vision for the future.
How does it manage to keep ahead of time?
"I would say we're perfectly on time. We just know it before others," declared Chadi.
Audemars Piguet, Time, Luxury, Swiss Watches, Art Basel, Royal Oak
Leia mais
The Art of Travelling Well
13 jul 2017
Travelling well involves much more than luxury destinations and five star amenities. It is an attitude — one that suggests a certain confidence that comes only from being a citizen of the world.
Arriving at a destination with an air of tranquil elegance, despite the usual pitfalls of international travel — delays, displaced luggage and fatigue — means seeking out the most innovative travel solutions to ensure a smooth, sophisticated journey.
To answer to the needs of the savvy traveller, luxury luggage brands are increasingly combining the high-end materials and precise craftsmanship clients expect with cutting-edge elements, such as integrated GPS tracking, USB chargers, remote auto-lock mechanisms and self-weighing technology, converting stylish suitcases into multi-faceted travel accessories.
Eschewing the standard issue complimentary amenities found on long-haul flights, seasoned travellers look to luxury brands to find lightweight, easy-to-pack essentials to help make long-haul flights more comfortable. Travel sets that include an elegant cashmere wrap, soft organic cotton slippers, silk eye masks and noise-cancelling headphones can go a long way to making any flight a restorative experience.
Travelling well also means taking advantage of the journey to rejuvenate, replenish and refresh the skin. Innovative formulas that combine several targeted actions in a single product mean fewer items in the vanity case. Clever locking mechanisms on dispensers ensure products arrive at their destination without spilling. Climate-activated moisturisers and deeply nourishing masks keep the dehydrating effects of pressurised cabins at bay, while delicately scented formulations and rich textures combine ensure a moment of indulgence — even at 30,000 feet.
Travel in style, Luxury, Travel, Luxury destination, Luxury luggage, Light packing, Travel smart
Leia mais
The Art of Caviar
14 jul 2017
Caviar has long been a symbol of decadence. Glinting like black pearls, it belongs to a rarified world of luxury and indulgence.
La Prairie turned to this precious ingredient for its unique restorative powers to launch its celebrated Skin Caviar Collection 30 years ago. It was an audacious move for the brand, which was the first to use the rare potency of caviar in skincare products.
To mark the 30th anniversary of the iconic Skin Caviar, La Prairie has collaborated with a group of equally audacious contemporary artists to produce an exhibition that masterfully evokes the world of caviar.
Paul Coudamy's Living Cells, which was unveiled at Art Basel this year, is a geometric structure of lacquered steel and magnets, defined through the mathematical formula known as Weaire-Phelan. Shiny black magnetised marbles – reminiscent of caviar – colonise the structure in clusters. The volume of the piece is in constant flux as the marbles can be moved, creating new, unique forms.
Solid Frequencies, a second work by Mr Coudamy, takes its cue from the Kundt Tube, a scientific device that displays sound waves in an air-filled, transparent tube. It features a large black form pierced by a glass tube filled with small marbles, inspired by the beads of La Prairie's Skin Caviar. When the piece is touched, the marbles move, generating three-dimensional shapes that flow back and forth through the tube following the hand's movement.
Moving Pixel, an installation by Bonjour Lab, was inspired by the spectacular lifting effect of La Prairie's Skin Caviar Liquid Lift. The golden beads form a silhouette frozen in time and space for a brief moment, resisting both time and gravity.
Cinq Fruits celebrates La Prairie's eternal quest for indulgence and timeless beauty with photographs evoking the iconic Skin Caviar Luxe Cream and Luxe Cream Sheer while showcasing the brand's artistic sensibilities.
And finally, an audiovisual installation by TremensS echoes the way La Prairie uses steam distillation to capture Caviar Water, which is used in Skin Caviar Essence-in-Lotion. The artwork is housed in a pitch-black room where a laser hits a vertical monolith. Four video-projectors cast abstract visuals that interact with the laser, while sound heightens the immersive experience.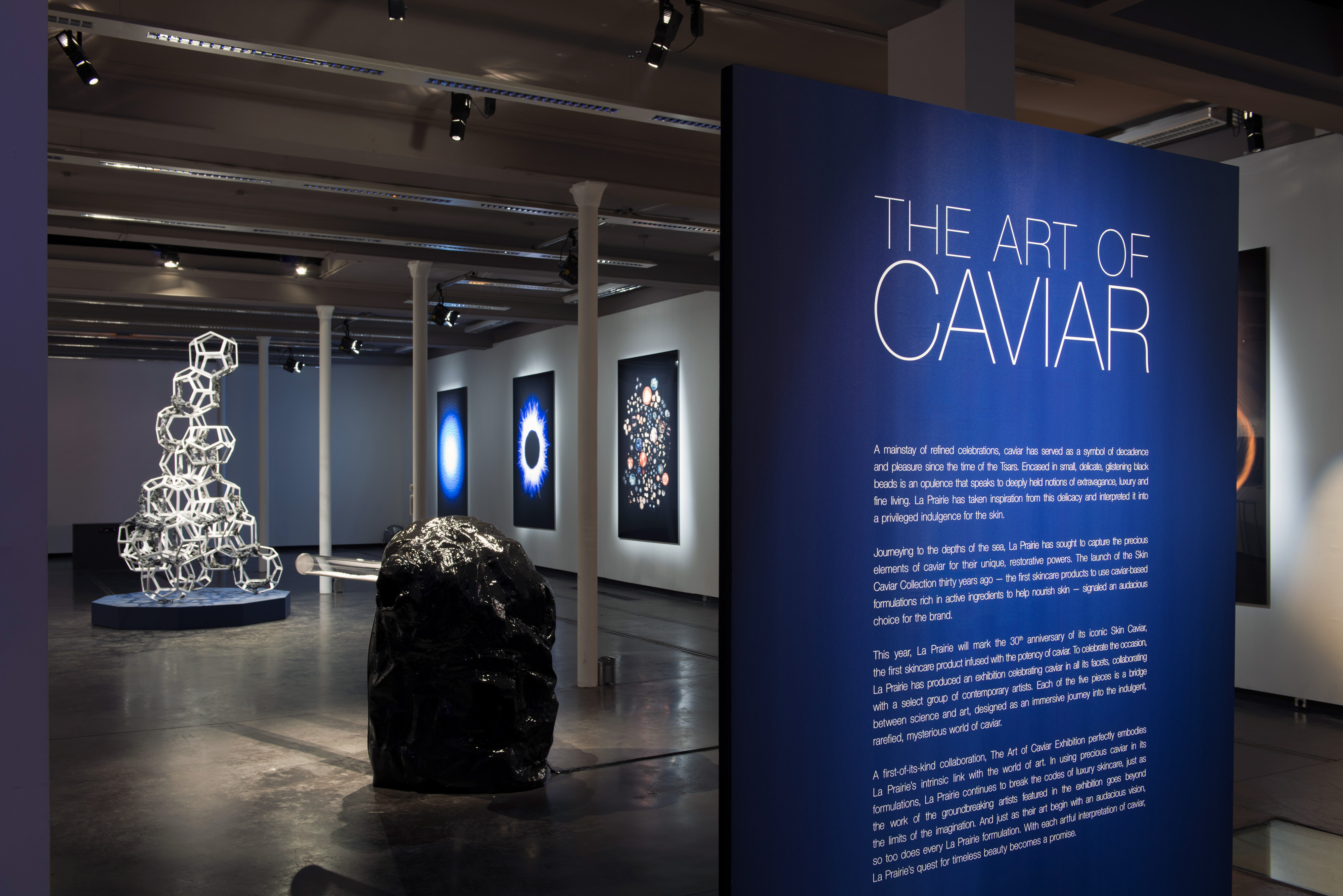 The five valiant art installations will travel to Paris, New York, Hong Kong and Shanghai where visitors will witness art and science coming together in an inspiring and daring union.
Paul Coudamy, Bonjour Lab, Cinq Fruits, TremensS, Paris, Art, Exhibition, Art of Caviar, Contemporary Art
Leia mais
Magnificent Millésime
The rise of vintage champagne and the ultimate way to savour it.
3 nov 2017
Served at society's most elegant events and affairs, vintage champagne — known as millésime — is the epitome of decadence.
The sumptuous wine can only be made when nature surpasses itself and produces a truly outstanding harvest. Only then can champagne houses around the world create and declare a champagne vintage when using just that year's grapes.
In response to recent rising popularity of millésime, sophisticated fine-wine merchants, restaurants and wine clubs now offer an audacious way of appreciating it, known as a "vertical tasting". Devotees are offered a series of vintages from a single champagne house, which allows them to savour the distinct characters of each one.
Nick Baker, Founder and Managing Director of The Finest Bubble, a prestige champagne retailer, organises legendary vertical tastings in London attended by avid collectors.
"A vintage champagne by definition is a 'representation of a single year' interpreted by the chef de cave/winemaker. And one of the reasons vertical tastings exist is to highlight the vintage characteristics," he stated.
Vertical tastings can also be used to showcase the "magnum effect" — how champagne in a magnum is subtly more complex and ages more slowly. The effect is so sublime that Nick recommends buying magnums from select outstanding years — such as 1996, 2002 and 2008 — as they are the perfectly-sized bottle suited to age vintage champagne.
Rare and precious, truly exceptional vintage champagnes are fetching exceedingly high prices at auction. One of the highlights of Sotheby's 2012 sale of Krug — a champagne known for its astonishing purity and precision — was a six-magnum vertical of Krug Clos du Mesnil. It sold for $42,875 — more than twice its highest estimate.
"Usually collectors are champagne lovers," stated Stephen Mould, Sotheby's Head of Wine, Europe. "They tend to be quite wealthy. They might be entrepreneurs; they might even be in the wine business themselves. Buyers come from throughout the world and are attracted to things that they can't get easily elsewhere. Champagne is made in quite large quantities, but some vintages are not readily available, even from the 80s, 70s and 60s. When you get older than that they can be quite rare."
These extraordinary wines — the result of an exquisite fusion of nature and science — are the ultimate in luxury. Each sip is a transcendental experience for the senses. Inspired by this world of rarefied indulgence, La Prairie has produced a limited edition of Skin Caviar Luxe Cream Millésime, infused with a special blend of caviar in celebration of the 30th anniversary of Skin Caviar Collection.
vintage champagne, Krug, Sotheby's, La Prairie, Millésime
Leia mais
Why Pollution is the New UV
Learn more about the effects of air pollution on skin.
13 fev 2018
While overexposure to the sun can cause premature skin aging, there is also a more "invisible" threat to timeless beauty lurking in the sky.
"Air pollution may well be the new UV," warned Jacqueline Hill, Director of Strategic Innovation and Science at La Prairie.
Air pollution is the world's greatest single environmental risk factor for health, according to the World Health Organization (WHO). It is a problem that is hard to avoid — 92 percent of the world's population lives in places where air quality levels exceed WHO limits.
Scientists have long studied the effects of air pollution on both the lungs and the cardiovascular system. However, recent research suggests that the damage caused by air pollution is even more pervasive than previously thought: just like ultraviolet radiation (UV) from the sun, it can have a devastating effect on the skin.
Professor Jean Krutmann from the University of Düsseldorf studied people in both Germany and China and discovered that age spots on their foreheads and cheeks increased by 25 percent with a relatively small increase in air pollution.
Another study in Mexico City revealed that people subjected to pollution were more likely to have a red complexion and higher levels of sebum, a condition that can contribute to a variety of skin issues, including acne.
Pollution can also diminish radiance, one of the skin's most prized attributes.
The skin is home to the very cells where beauty is born, and there are ways to protect it from the ravishes of air pollution. As the skin has a natural, defensive barrier to the elements, it should not be over-washed, recommends Dr Hill. Mild cleansing products should always be used to remove pollution from the skin.
In an audacious interpretation of science and art, La Prairie's scientists have gone beyond the limits of the imagination to produce a range of products that preserve and restore skin barrier function. There are currently only a few molecules available to counteract or prevent the detrimental effects of certain pollutants.
White Caviar Illuminating Pearl Infusion contains polymers which form a protective layer on the skin, seeking out and isolating particles and heavy metals from air pollution that settle on skin's surface. They are then easily washed away when the skin is next cleansed.
Certain foundations may also help to scavenge the skin for pollutants, which are then wiped away when the make-up is removed, said Dr Hill. She recommends wearing a sunscreen that blocks UV radiation, as it would prevent photo-reactive pollutants from reacting to UV exposure.
Prevention is therefore the preferred way to transcend the effects of air pollution and maintain a timeless beauty.
Skin aging, Skin damage, Air pollution, UV
Leia mais
Mastering the Art of Caviar
Celebrate 30 years of magical caviar with audacious La Prairie.
19 out 2017
Rare and sumptuous, caviar has been the ultimate in decadence since the time of the Tsars, evoking an elite world of fine living, nobility and opulence. The epitome of pleasure and tasteful indulgence, the sophisticated luxury is endlessly coveted. In a poetic reflection of its refined status, the delicacy's luminescent beads glimmer like precious pearls that could never be replaced.
Caviar hails from the mysterious depths of cobalt blue seas. Deep within these pristine waters lies an enchanted place where nature performs miracles. Thirty years ago, La Prairie discovered one of them — caviar is the key to a world of beauty with no temporal limits.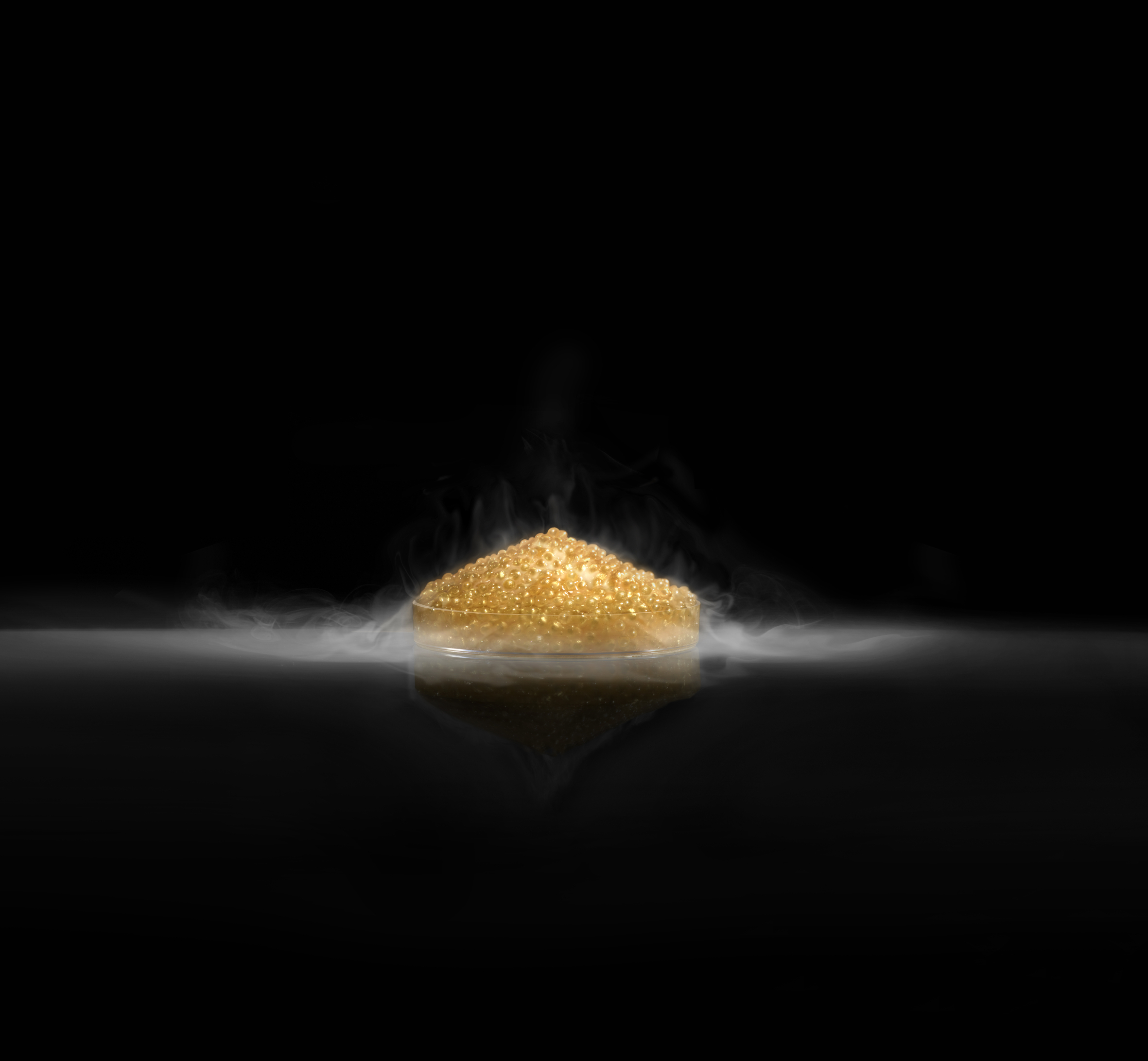 The luxury skincare brand broke the codes of luxury and became the first to use the unparalleled potency of caviar as a privileged indulgence for the skin. Elevating science to an art, in 1987 La Prairie launched its Skin Caviar Collection, a paragon of refinement infused with the restorative powers of caviar, a magical source of rich nutrients.
The innovation was as audacious as it was masterful, showcasing La Prairie's devotion to sourcing rare and precious ingredients to hold back time.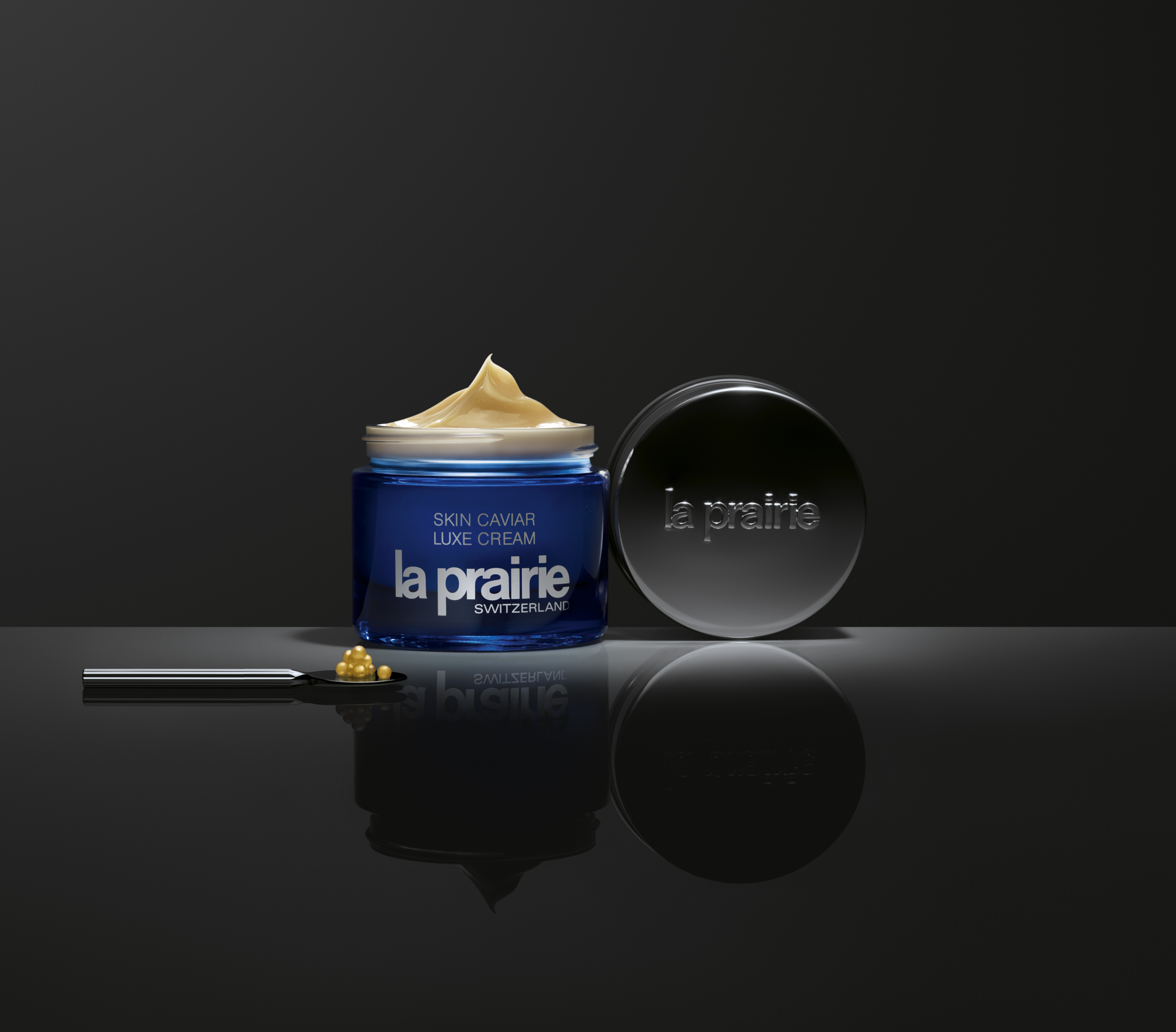 The Skin Caviar Collection transcended all expectations and quickly became an iconic elixir of longevity. "Since the launch of La Prairie Skin Caviar, the level of luxury beauty products was raised to the highest point," stated the Luxury Activist website.
With a truly unique combination of Swiss precision, scientific innovation and daring, La Prairie has constantly expanded the celebrated collection.
Harnessing the unparalleled firming and lifting benefits of caviar, the brand has produced ever more artful interpretations, such as Skin Caviar Eye Complex and Skin Caviar Liquid Lift.
The brand's latest innovation, Skin Caviar Absolute Filler, captures the most elusive ingredients in caviar and combines them to enhance their potency. Harper's Bazaar is more than impressed. "All things considered, it's one of the most luxurious and effective moisturizers I've ever slathered on my skin," the publication affirmed.
The entire collection includes La Prairie's legendary Exclusive Cellular Complex, which utilises cutting-edge science to enliven the very cells where beauty is born.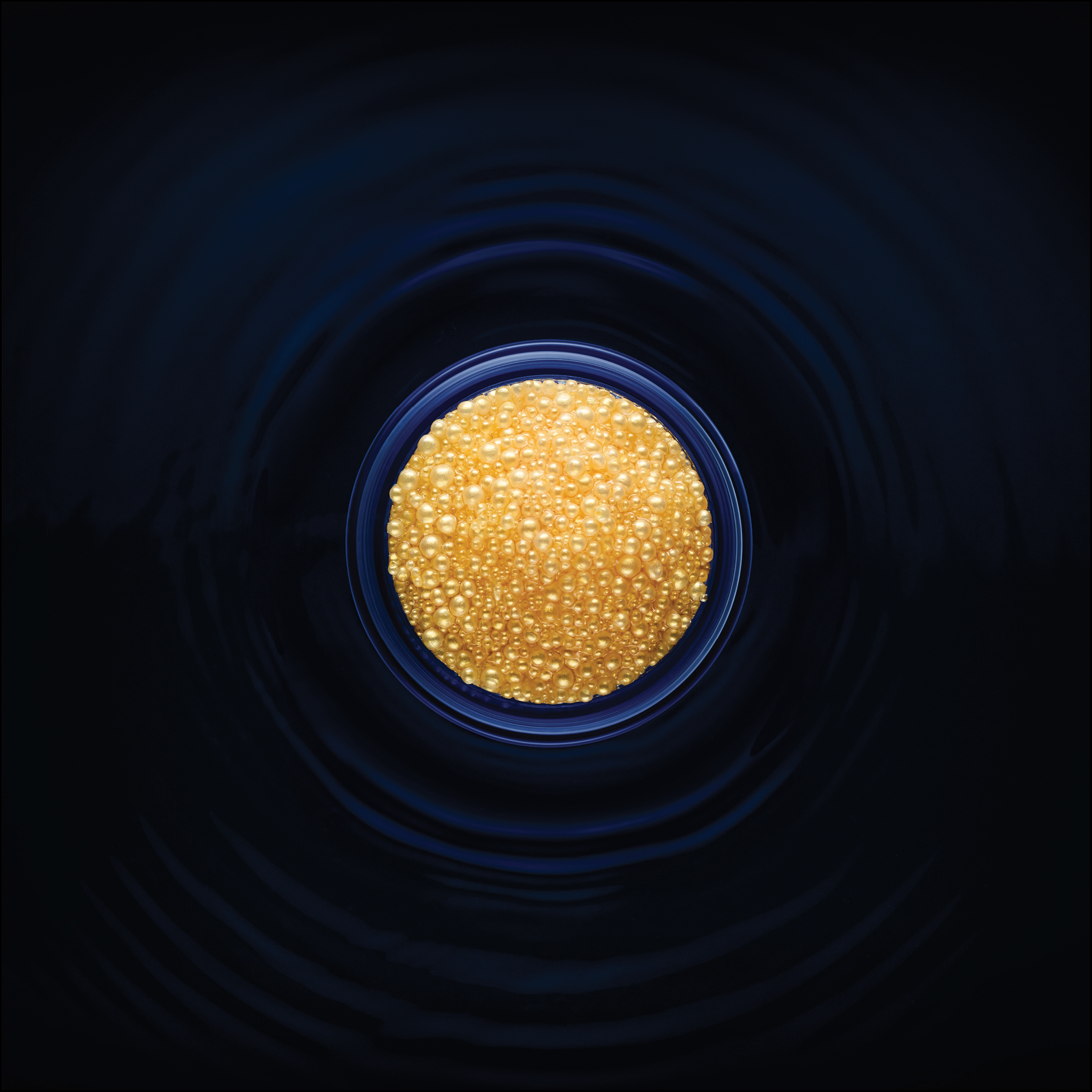 Since its miracle inception, the Skin Caviar Collection has remained the luxury of choice, revered as the quintessence of effectiveness fused with indulgence. Each product — from silky serums to lavish creams — transports its owner to a place of exquisite extravagance simply by gracing the skin.
Now is the time to join La Prairie as it celebrates 30 glorious years of artful indulgence, and honour the extraordinary wonder that is caviar — a rarefied gift of timeless beauty.
Caviar, La Prairie, skincare, luxury, Skin Caviar Collection
Leia mais
The Art of Tasteful Gifting
A modern guide to gifting etiquette during the holiday season.
18 dez 2017
Gifts are a poetic expression of affection and appreciation. They help define relationships and strengthen intimate bonds, enriching both the giver and the receiver.
The enchantment of receiving a refined gift lies in being transported to a world of pure decadence, a place where desire and mystery come together in an inspiring and audacious union.
But the enchantment of giving a refined gift is far greater. It is the awe-inspiring knowledge of having given the most precious present of all – time, which stands tantalisingly still on each occasion that the precious luxury is used.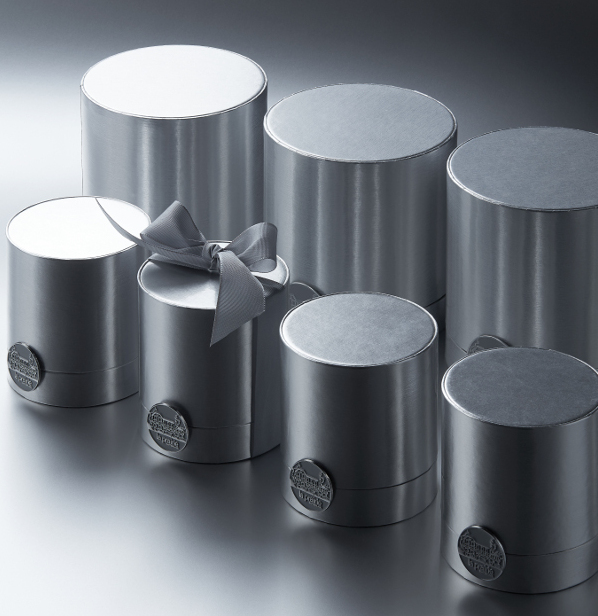 Successful gifting is a veritable art form. It speaks of consideration, immaculate manners and indulgence perfected.
But like any social ritual, the risk of impropriety is never far away, and a misjudged present can risk souring a relationship.
In order to master the art of gifting, here are some recommendations to consider:
1. A gift should be certain to please and should therefore reflect the recipient's personal likes and dislikes, stated William Hanson, a leading British etiquette and protocol expert.
2. Avoid giving a present for the home unless you know the recipient extremely well, as there is a strong chance of misjudging their taste. Flowers are the exception.
3. Chocolates are the most tasteful choice for someone one does not know well, according to Mr Hanson.
4. When presenting a gift to someone from another country, be sure to consider all the cultural codes so as not to offend.
5. Not being ostentatious is the key to tasteful gifting, asserted Mr Hanson. It is not tasteful to give someone a very expensive bottle of champagne if they cannot reciprocate, for example.
6. Keep a list of all the gifts you give each year to avoid repetitions in the future.
7. A gift should be beautifully wrapped, offering a sensorial prelude to the precious indulgence nestled within. An unwrapped gift, or one offered in a gift bag, denotes a marked lack of refinement, said Mr Hanson.
8. Choose the right moment to present your gift so that the recipient has sufficient time to gracefully receive it.
9. When presenting a gift, the most tasteful thing to say is what comes from the heart, stated Mr Hanson.
10. Respond with graciousness when thanked. Do not diminish the gift you have presented.
Gifts, The art of gifting, William Hanson, Holiday season
Leia mais
Swiss Science: A Passion for Knowledge
How a Swiss scientist is unlocking the secrets of the universe.
4 out 2017
Deep within one of the world's biggest and most respected centres for scientific research, particle physicist Alison Lister is on a quest to unlock the secrets of the universe.
Her audacious endeavours take place at CERN, the European Organization for Nuclear Research, near Geneva. The legendary Swiss laboratory is home to the world's largest and most complex scientific instruments used to study the basic constituents of matter — the fundamental particles of life.
It was at CERN that the World Wide Web was invented in 1989, and the long-sought Higgs boson subatomic particle was discovered in 2012, hailed as one of the greatest triumphs of science.
"We were all part of the discovery," asserted Alison. "I think the actual triumph was a combination of the great physicists who thought of the idea of the Higgs mechanism and the cumulative efforts over many years to find it."
Alison believes that Switzerland's fortuitous location at the crossroads of Europe, along with its exceptional quality of life, are behind the country's long and noble tradition of being at the forefront of science and innovation. CERN has always explored the world not only through science but through art — a vision shared with La Prairie.
Arts at CERN, its leading art and science programme, promotes an inspired dialogue between artists and particle physicists, both of whom examine existence and what it is to be human.
"Art has always mattered and always will," Alison stated. "It's a way of expressing life, emotions — even science — in ways which transcend words."
Born in Switzerland to two CERN physicists, Alison works on the 7,000-tonne ATLAS detector which probes the fundamental particles.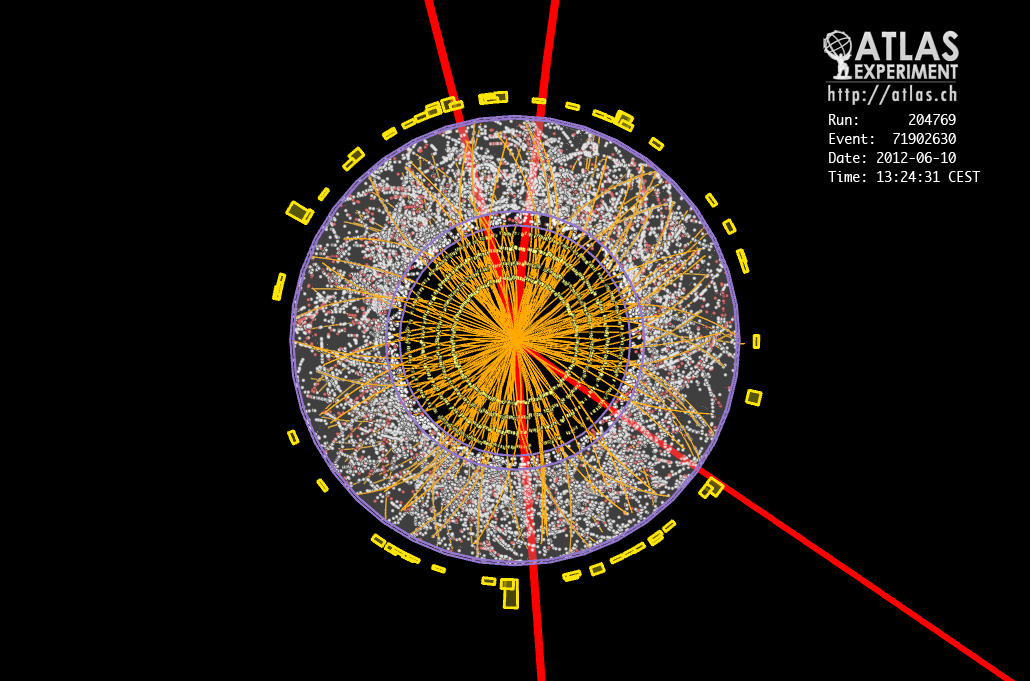 The detector is at the awe-inspiring Large Hadron Collider, the world's largest and most powerful particle accelerator, which forms a 27 kilometre-long underground ring.
Accelerators boost beams of particles to high energies. The beams are made to collide with each other, or stationary targets, while detectors observe and record the results of these collisions.
"There's still 95 percent of the universe yet to be discovered," Alison declared. "Dark matter, for example, is something we know is out there, but until we can produce it in the lab, or detect it somehow on earth, we won't know what it's made of. It's a really amazing time to be alive."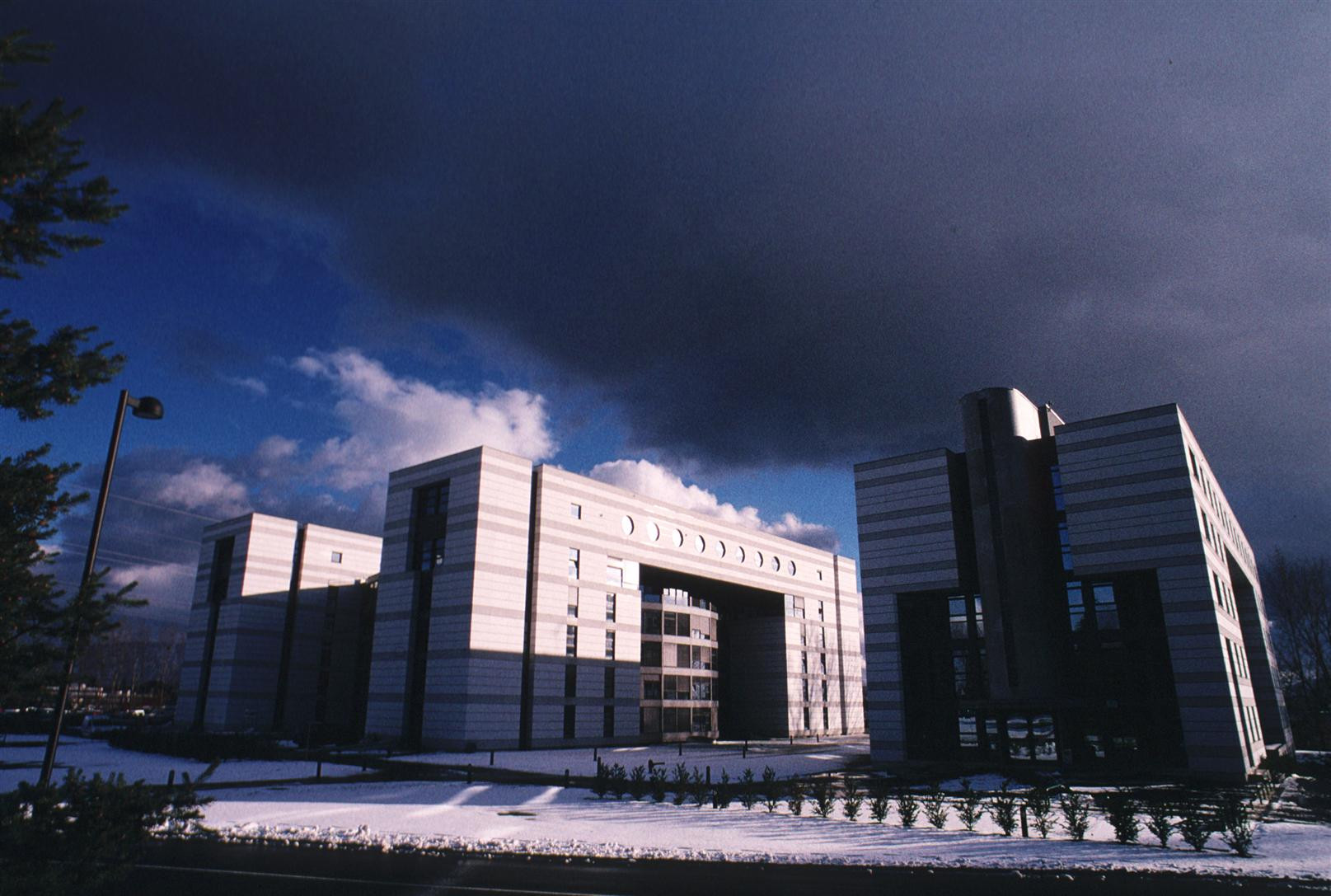 As a poetic balance to her groundbreaking scientific research, Alison spends much of her down time immersed in the timeless beauty of the magnificent Swiss Alps. While hiking or skiing these natural wonders, she enters a rarified world where time stands still. These quiet moments, encased in pristine Swissness, nurture her soul, giving her the inspiration to continue solving the enigmas of the universe.
CERN, Higgs boson, Large Hadron Collider, Science, Alison Lister
Leia mais
A Conversation with Pablo Valbuena
The Spanish artist speaks about his inspiration.
15 dez 2019
On the occasion of the latest edition of Art Basel in Miami Beach, La Prairie collaborated with artist Pablo Valbuena on an exclusive light installation, revealed on Miami Beach's iconic oceanfront. We sat down with Mr. Valbuena to learn more about his aesthetic and vision.
Leia mais
Infusion of Light
27 mar 2017
On the occasion of the launch of White Caviar Illuminating Pearl Infusion, La Prairie has selected works by six Swiss artists that interpret the topic of light. Entitled "Infusion of Light", the digital takeover featuring daily posts will run on the @laprairie Instagram account from Monday March 27, 2017 to Sunday, April 2, 2017 inclusive.
For the duration of the week, the @laprairie account will be transformed into a temporary digital exhibition. Each post will feature one piece of art accompanied by a short description and artist bio, along with a video of the artist speaking about the use of light in his or her work.
The focus on Swiss artists is a conscious choice rooted in La Prairie's Swiss heritage. The artistic collaboration is in keeping with the Brand's enhanced relationship with the world of contemporary art.
The artists: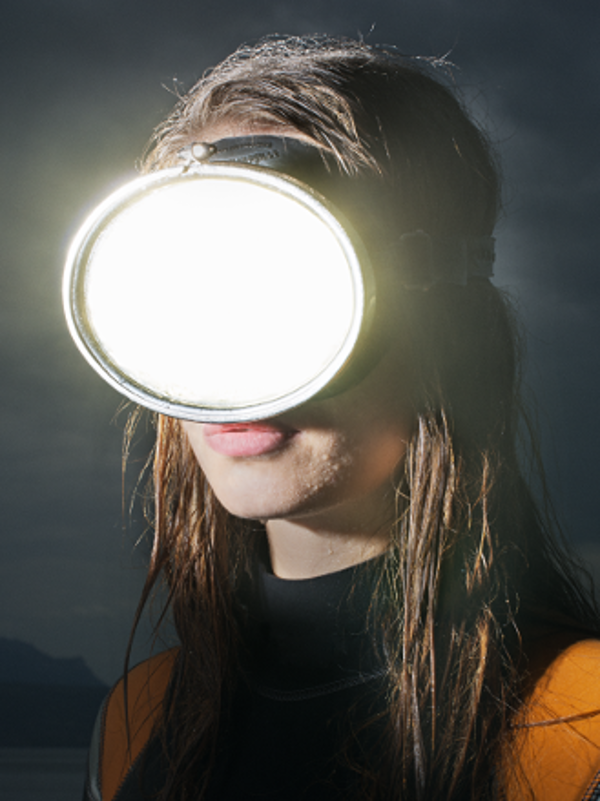 Jacques-Aurélien Brun, born 1992 in Lausanne. Lives and works in Lausanne.
After Anna, 2015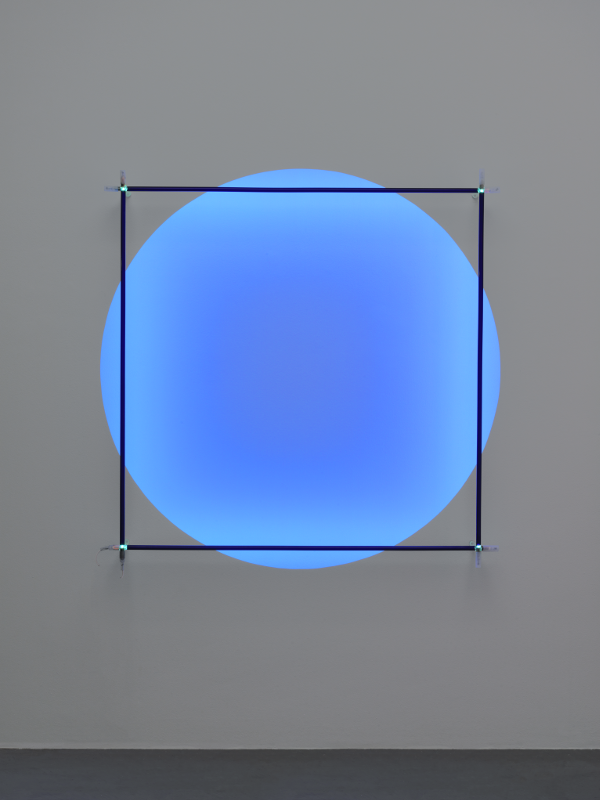 Christian Herdeg, born 1942 in Zurich. Lives and works in Zurich.
Magic Circle meets Square, 2012
Fluo acryl color, blacklight tubes
152 x 152 x 7 cm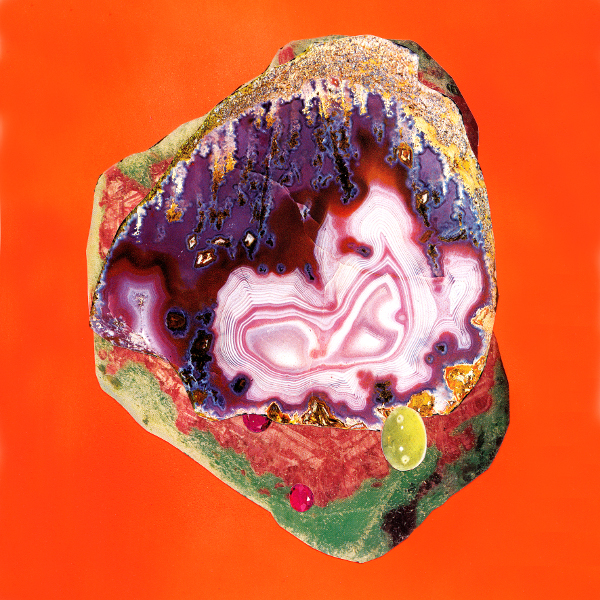 huber.huber, Reto and Markus Huber, born 1975 in Münsterlingen. Live and work in Zurich.
Umkristallisationen, 2013
Collage: book clippings, varnish, on cardboard
A4, A3, A2
Zilla Leutenegger, born 1968 in Zurich. Lives and works in Zurich.
Lucellino (small light), 2006.
Video installation with drawing on paper.
19th Biennale of Sydney, Sydney, 2014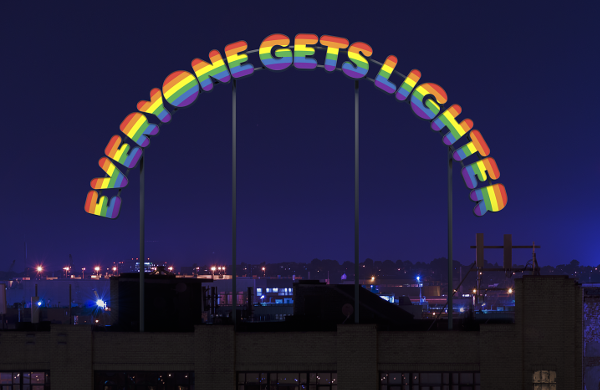 Ugo Rondinone, born 1964 in Brunnen. Lives and works in New York.
Everyone Gets Lighter, 2004
Sculpture, neon, perspex, translucent foil and aluminum
414 x 950 x 15.2 cm
Manon Wertenbroek, Swiss/Dutch artist, born 1991 in Lausanne, grew up in Switzerland. Lives and works in Paris.
I saw you smile yesterday, 2017
To discover more about the illuminating work of these groundbreaking Swiss artists, please visit the La Prairie Instagram account. Click here
Art, Light, Liquid Light, Christian Herdeg, Jacques-Aurélien Brun, Manon Wertenbroek Post, Zilla Leutenegger, huber.huber, Ugo Rondinone, White Caviar Illuminating Pearl Infusion
Leia mais
Rituals of Extraordinary Performers
ARTICLE 1 | 5 Emerging Swiss Artists to Watch in 2017
16 mar 2017
In an often frenetic world, rituals offer a sacred moment of calm and quiet. They are about indulgence – luxuriating in a moment for oneself, taking time to enjoy little pleasures – but they are also about taking care of oneself and restoring vital energy and focus.
For many artists, rituals are an essential part of their performance. Whether their habits help calm the mind or give a boost of confidence before taking the stage, performers often observe unique, deeply personal pre-stage routines. La Prairie sat down with two seasoned musicians to discuss the art of ritual and why it plays an important role in their craft.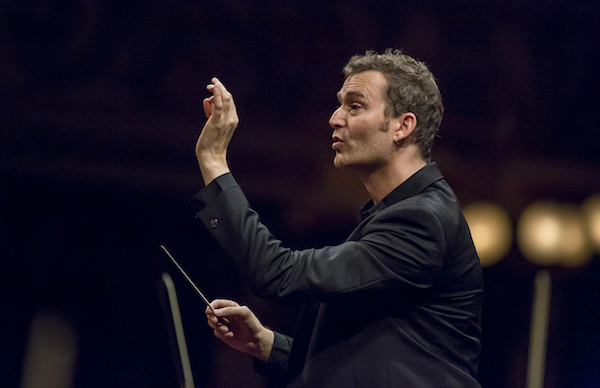 Photo: courtesy of the artist; © Marco Caselli Nirmal
ETIENNE ABELIN |Basel | etienneabelin.com
A pioneering violinist and conductor, Etienne Abelin is reinvigorating classical music. Born in Bern and currently based in Basel, the Swiss star started playing the violin when he was just four years old and began conducting in 2011. His audacious ensemble project, bachSpace, is an innovative interpretation of classic music – the trio combines works by J.S. Bach with electronic compositions and remixes.
Etienne is electric on stage, putting extraordinary passion into every piece he plays or conducts. "All performances are different, so the mix of emotions is always different," he says. "The goal is to get physically and mentally ready to be fully there, right from the first moment on stage."
Etienne's preparation for the stage happens long before he steps onto it. In addition to reviewing each piece of music mentally and visually in fast tempo, Etienne connects with his body through stretches and then with the other musicians through conversation. He believes it helps him get into an improvisational space.
Evoking this sense of both formula and fluidity is essential to his music. "I try to be as well prepared as I can without getting stuck and overly perfectionist," he says. "A performance is like a living and breathing animal, it must be spontaneous and perfectionism is detrimental to that."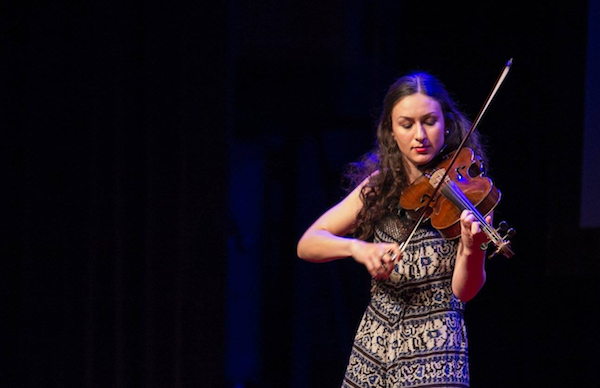 Photo: courtesy of the artist
DEANNA BADIZADEGAN | San Francisco | deannabadizadegan.com
Originally from Massachusetts, this San Francisco-based violist started playing at the age of four and has been performing around the world ever since, from castles in Luxembourg to Carnegie Hall in New York. Now 24, Deanna seeks out performance opportunities that emphasise the joy, human connection and creativity that are the hallmarks of great artistry and shared experiences.
"My absolute favourite part of playing music is to be able to connect with people around me – both the other musicians and the audience – in a meaningful way," she says. "There's a special feeling that you get when you start playing and sense the whole room is listening."
Part of that connection is preparation, she says.
Deanna has several rituals she has adopted over the years to get in the right mental space for the stage. "I like to do some deep breathing right before I go on stage, which helps quiet my mind so I can stay focused on the music while I'm performing." And if there is enough time, she tries to attend a Yoga class. "It puts me in the perfect zone," she says. The violist says anticipation for a performance builds over a few days and that small rituals help focus her excited energy and anticipation into concentration.
To integrate a ritual into one's own day-to-day routine, it is best to focus on a particular moment or context in which distractions can be kept to a minimum. Favour rituals that help calm the spirit, provide a sense of pleasure and well-being and give back time.
Rituals, Indulgence, Etienne Abelin, Deanna Badizadegan, Luxury, Performers, Perfection, Art
Leia mais
Majestic Matterhorn: Behind the Lens
28 jul 2017
A symbol of eternity and audacious beauty, the Matterhorn is the iconic image of Switzerland — one that represents La Prairie.
Such is the mountain's breathtaking allure, it has been an inspiration to countless artists for centuries. John Ruskin, the great Victorian art critic and social commentator, declared it "the most noble cliff in Europe". He not only painted the Matterhorn, he also took the first photograph of it in 1849.
The majestic mountain continues to captivate artists and audiences today.
Nenad Saljic's haunting black-and-white photographs of the mountain have earned him two National Geographic Awards, and resulted in the honour of being named Professional Landscape Photographer of the Year at the 2013 Sony World Photography Awards.
Nenad, who was born in Croatia, became enraptured with mountaineering on a school hiking trip when he was only 12 years old. Seven years later, he climbed Mont Blanc. But it wasn't until his 40s that Nenad first set eyes on the bewitching Matterhorn Mountain.
"That was love at first sight," admitted Nenad, who now lives in Zermatt, which boasts arresting views of the mountain. In 2009, he first began photographing the Matterhorn, a project that lasted several years until 2015.
The fulfilling endeavour resulted in several thousand portraits and his book "Matterhorn: Portrait of a Mountain." It features 43 black-and-white duotone photographs accompanied by a timeline of the most significant events in the Matterhorn's history.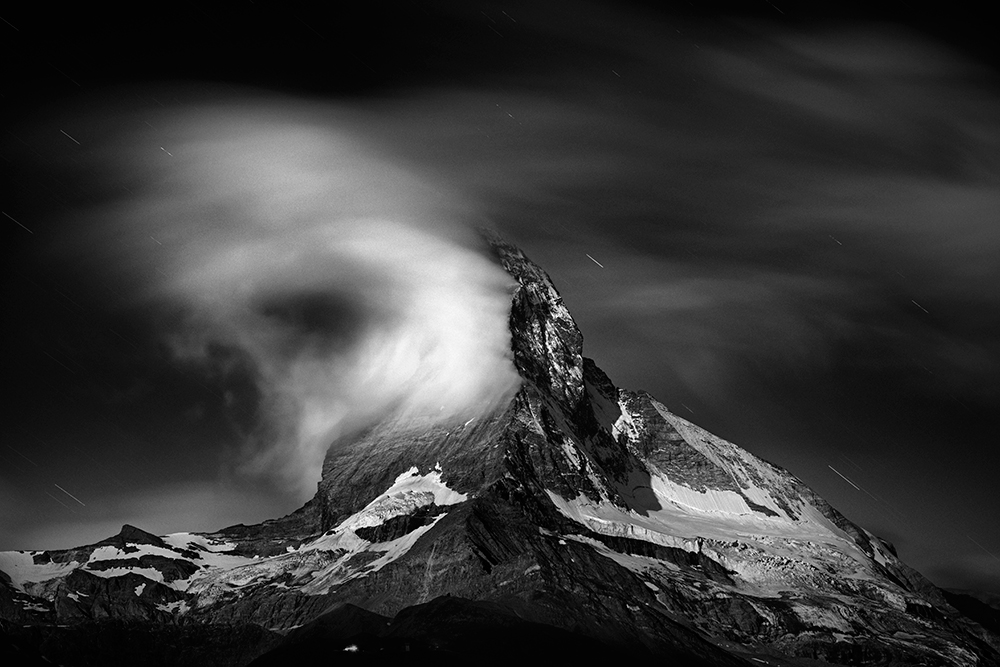 Photo credit: Nenad Saljic
"There are several aspects of the Matterhorn that have attracted me," Nenad pronounced. "Artistically, it is one of the world's most magnificent mountains – with its pyramidal shape and solitary position it could be considered an ideal mountain. The Matterhorn even produces its own banner clouds due to the special atmospheric conditions."
Nenad is also attracted to its rich history. The Matterhorn had long been deemed inaccessible, and it remained unclimbed long after most of the other great Alpine peaks had been reached. Edward Whymper finally conquered the mountain in 1865, marking the end of the golden age of Alpinism.
"The triumph and tragedy of this feat marks the epitome of our human desire to explore and venture beyond our limitations, simultaneously reminding us of how great and how small we are," asserted Nenad. "The Matterhorn is a product of geological processes that transcend human beings and our concept of time."
Photo credit: Nenad Saljic
A trained mountaineer and caver, he has never climbed a mountain that has had such a pull on him. "I think there is a Buddhist saying that the best view of a mountain is not from the top, because once you are on the summit you cannot see the mountain itself. This is a nice philosophical excuse, at least," he stated.
Eternally captivated, Nenad finds that time gradually slows down when he is working, and eventually seems to stop entirely.
Matterhorn, Switzerland, Photography, Artist, Nenad Saljic, Art, Portrait of a Mountain
Leia mais
Three Types of Wrinkles and What Causes them
22 mar 2017
The formation of wrinkles – the crepe-like crosshatch lines under the eye, crow's feet, frown lines and creases around the mouth – are a result of various biological, hereditary and behavioural influences. And while some lines add character, others might appear earlier than expected or seem too severe, robbing the face of its vitality.
Not all wrinkles are created equal, however. To choose the wrinkle-fighting products best suited for individual needs and concerns, it is essential to first understand the different types of wrinkles and what causes them. Here, the three most common types and how to combat them – the starting line for a lineless future.
AGE AND GRAVITY
Research shows that cells divide more slowly as you age, causing the inner layer of skin to thin and become prone to damage and folding. Skin also begins to lose its elasticity. This loss of resilience and bounce results in lines and creases, particularly around the eyes, along the fold that runs from the nose to the corners of the mouth and along the jawline and neck. Over time, the downward pull of gravity accentuates these issues, allowing lines to settle in. Products that work to support the skin's natural renewal process by promoting the production of collagen, elastin and hyaluronic acid can help combat the impact of gravity on the skin.
EXPRESSION LINES
Skin has a memory. Its cells track each smile, squint and frown, and with these habitual facial movements, expression lines begin to form. When facial muscular movements are repeated systematically, these lines become permanent and deepen with time. One way of guarding against expression lines is to impede facial muscle movement, but that requires dermatological procedures in a specialist's office. Another effective way is to look for products that contain peptides that help to inhibit the signalling pathways of facial muscles, relaxing the surface of the skin and smoothing out existing expression lines – no appointment required.
PHOTO-AGING
For healthier, stronger, smoother skin, it is best to limit sun exposure. It is well documented that solar radiation causes skin damage and photo-aging. In fact, scientific studies show the sun causes more than 80 percent of visible changes commonly attributed to skin aging. Overexposure breaks down the skin's underlying structure and affects its appearance, especially in sensitive, sun-prone areas like the cheeks and neck. Guarding against the sun's UVA and UVB rays – the 'aging rays' – is fundamental to skin health, as both are responsible for long-term damage, including wrinkles. Scientists have also recently learned that within the solar spectrum, longer wavelengths such as Infrared Radiation (IRA) have been shown to alter the collagen equilibrium, while decreasing the synthesis of collagen itself. Choose products that contain an SPF of 30 or more with UVA, UVB and IRA protection to stop premature aging due to sun damage.
References:
Simon, Harvey (2012). MD, Editor-in-Chief, In-Depth Reports; Associate Professor of Medicine, Harvard Medical School; Physician, Massachusetts General Hospital. Skin wrinkles and blemishes.
Flament F, Bazin R, Laquieze S, Rubert V, Simonpietri E, Piot B (2013). Effect of the sun on visible clinical signs of aging in Caucasian skin. Clinical, Cosmetic and Investigational Dermatology. 2013;6:221-232. doi:10.2147/CCID.S44686.
Keywords: Lines, Wrinkles, Science, Aging, Expressions Lines, Gravity, Skin Care, Line Interception Power Duo, UVA, UVB, IRA, SPF, Sun
Leia mais
A mostrar 1 - 17 de 17 resultados