Art and Architecture
THE MINIMAL ESSENCE
Exploring the Refined Beauty of Minimalism in Art
Meticulously refined, audaciously pared-down, and exemplifying perhaps an ultimate purification in the artistic components of colour, light, line, and form, minimalism is arguably the boldest and most enduringly inspirational aesthetic of 20th century art. From its earliest roots in the turn of the century neo-plasticism of Piet Mondrian, through its meteoric rise in 1960's America, and right up to the starkest of today's artistic, architectural, and product design idioms, minimalism remains a tour de force that has shaped our world in its image.
Both oblique and questioning, minimalism sits at odds with the artistic canon, methodically distilling the most basic components of visual culture, while exploring and expanding what art can and should be. Through challenging our instincts and eliciting meditations on art's most fundamental roles, minimalism allows us to see objectively, removing the personal to leave only pure elements in all their stark and striking wonder.
Rewriting the Rules of Modern Art
The heritage of artistic movements, schools of thought, and innovations rarely follows a straight and easily traceable line. Minimalism, as with any other movement which is at once a philosophy and an aesthetic in itself, meanders its way through the history of visual culture for centuries, before solidifying in the febrile creative environment of 1960s New York. While one can find evidence of minimalist art aesthetics in the monochromatic planes of space and line that typify ancient zen art, in the Bauhaus principles of unsullied primary colours, and in Mondrian's mystifyingly engaging compositions, the movement required a sense of opposition in which to truly flourish.
This point of opposition came in the form of abstract expressionism, and in the neo-baroque, textured, and often tortured brushstrokes of mid 20th century American painting. Abstract expressionists, such as Rothko and De Kooning, were animatedly expressing the soul and psyche of the artist on canvas, occupying vast spaces with dense, gestural, and overwrought layers of paint. Minimalism arose as the ultimate counterpoint to this, eschewing the inward completely, with an expressed intention to create "art which excludes the unnecessary", and to formulate artworks which inhabit their own reality without imitating or expressing anything but themselves.
Therein lies the most compelling and enduring aspect of minimalism, and the essence of its postmodern power. Minimalist art makes no attempt to represent an outside reality, and for the first time in art history, presented artworks which were neither a depiction of the world around us, nor the world within. Rather, the artists of the minimalist movement simply wished for the viewer to respond to what was present before them, to immediately react to sculptures, paintings, and installations occupying physical and sensory space. New York artist Frank Stella claimed of his minimalist paintings that "What you see is what you see", a seven-word manifesto for art without deception, and for art which does not try to be, but which simply is.
"Jill", 1959, Frank Stella. ©2021 Albright Knox Art Gallery/Art Resource, NY/Scala, Florence. ©2021 ProLitteris, Zurich.
Elemental Colours, Lines, and Forms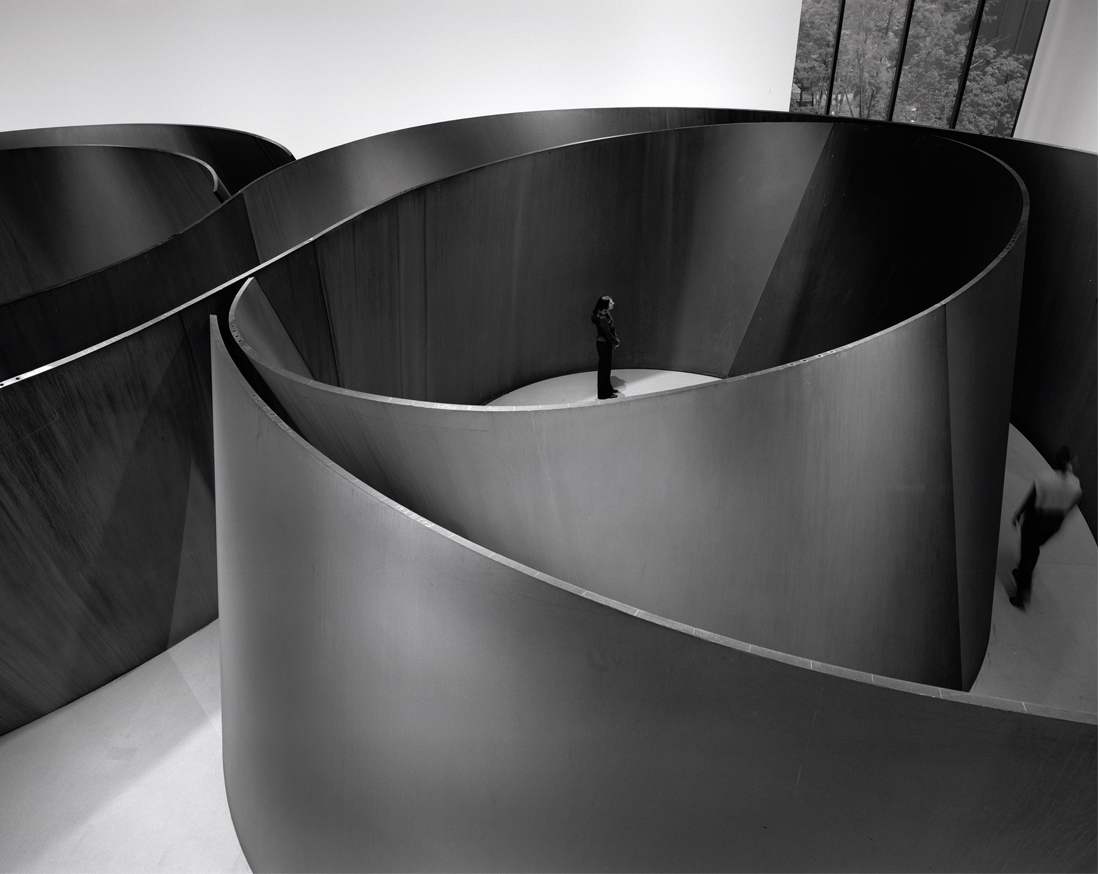 Richard Serra Sculpture, "Forty Years", MoMA, NY, 2007. ©2021 Lorenze Kienzle/The Museum of Modern Art, New York/Scala, Florence. ©2021 ProLitteris, Zurich.
There is a paradox at the heart of minimalist and minimal-adjacent art, which is the fact that, by its very nature, it utilises the most basic, most recognisable, and most understated elemental colours, shapes, motifs, and sounds in order to elicit often powerful emotional responses. Minimalist sculpture, especially, performs this balancing act with impressive impact, with monumental forms often seeming to invade an exhibition or public space, prompting questions regarding both the reason for their presence, and how their presence affects and alters the spaces they have overtaken. This is clear in Donald Judd's imposing concrete blocks, which cast their geometric shadows over arid desert landscapes, in Sol LeWitt's dazzling wall drawings, and in Richard Serra's Tilted Spheres, which enclose the viewer as they pass between their curved and looming planes.
Just as there is a clear architectural quality to minimalist art and sculpture, there is likewise a sculptural and artistic quality to minimalist architecture, and to those architectural designs which paved the way for minimalism, as a bonafide movement, to emerge. Once again, it is impossible to understate the importance of the Bauhaus when it comes to examining the growth of minimalist architecture, as both an idiom in its own right, and as an offshoot of modernism and the avant-garde. Mies Van der Rohe and Walter Gropius, both esteemed directors of the Bauhaus, imbued their buildings with the 'less is more' mantra of Bauhaus design, and championed the use of unadorned surfaces, straight lines, and exposed building materials. Le Corbusier, the inheritor of the Bauhaus architectural principles, likewise approached his work with stark minimalism, allowing space and light to provide all the illumination and decoration his buildings required.
Further ripples of minimalist influence can be found in the work of other lauded architects, most notably Mexico's Luis Barragán, Japan's Tadao Ando, and a wealth of contemporary creatives working across the globe. Indeed, everything from private homes to vast skyscrapers are erected with the sleek essence of minimalism at their core, gilding skylines with monochromatic surfaces, exposed beams, and geometric lines. It is perhaps this internationalism, this lacking of cultural constraints and the need for common cultural understanding, which has allowed minimalism to become not merely another mid-20th century art movement, but rather the foundation for so much of today's visual culture. Minimalism, and the beauty evident in its finesse and restraint, has long since left the art gallery, and has taken on the world.
The Essence of Beauty
Geometric. Precise. Understated. The codes of Minimalism and Bauhaus are effortlessly infused in every aspect of La Prairie's design. From the sleek jars and vials echoing the purity and elegance of Minimalism, to the product display in both virtual and physical environments, La Prairie strives to preserve and highlight the essence of beauty.