Caviar has long been a symbol of decadence. Glinting like black pearls, it belongs to a rarified world of luxury and indulgence.
La Prairie turned to this precious ingredient for its unique restorative powers to launch its celebrated Skin Caviar Collection 30 years ago. It was an audacious move for the brand, which was the first to use the rare potency of caviar in skincare products.
To mark the 30th anniversary of the iconic Skin Caviar, La Prairie has collaborated with a group of equally audacious contemporary artists to produce an exhibition that masterfully evokes the world of caviar.
Paul Coudamy's Living Cells, which was unveiled at Art Basel this year, is a geometric structure of lacquered steel and magnets, defined through the mathematical formula known as Weaire-Phelan. Shiny black magnetised marbles – reminiscent of caviar – colonise the structure in clusters. The volume of the piece is in constant flux as the marbles can be moved, creating new, unique forms.
Solid Frequencies, a second work by Mr Coudamy, takes its cue from the Kundt Tube, a scientific device that displays sound waves in an air-filled, transparent tube. It features a large black form pierced by a glass tube filled with small marbles, inspired by the beads of La Prairie's Skin Caviar. When the piece is touched, the marbles move, generating three-dimensional shapes that flow back and forth through the tube following the hand's movement.
Moving Pixel, an installation by Bonjour Lab, was inspired by the spectacular lifting effect of La Prairie's Skin Caviar Liquid Lift. The golden beads form a silhouette frozen in time and space for a brief moment, resisting both time and gravity.
Cinq Fruits celebrates La Prairie's eternal quest for indulgence and timeless beauty with photographs evoking the iconic Skin Caviar Luxe Cream and Luxe Cream Sheer while showcasing the brand's artistic sensibilities.
And finally, an audiovisual installation by TremensS echoes the way La Prairie uses steam distillation to capture Caviar Water, which is used in Skin Caviar Essence-in-Lotion. The artwork is housed in a pitch-black room where a laser hits a vertical monolith. Four video-projectors cast abstract visuals that interact with the laser, while sound heightens the immersive experience.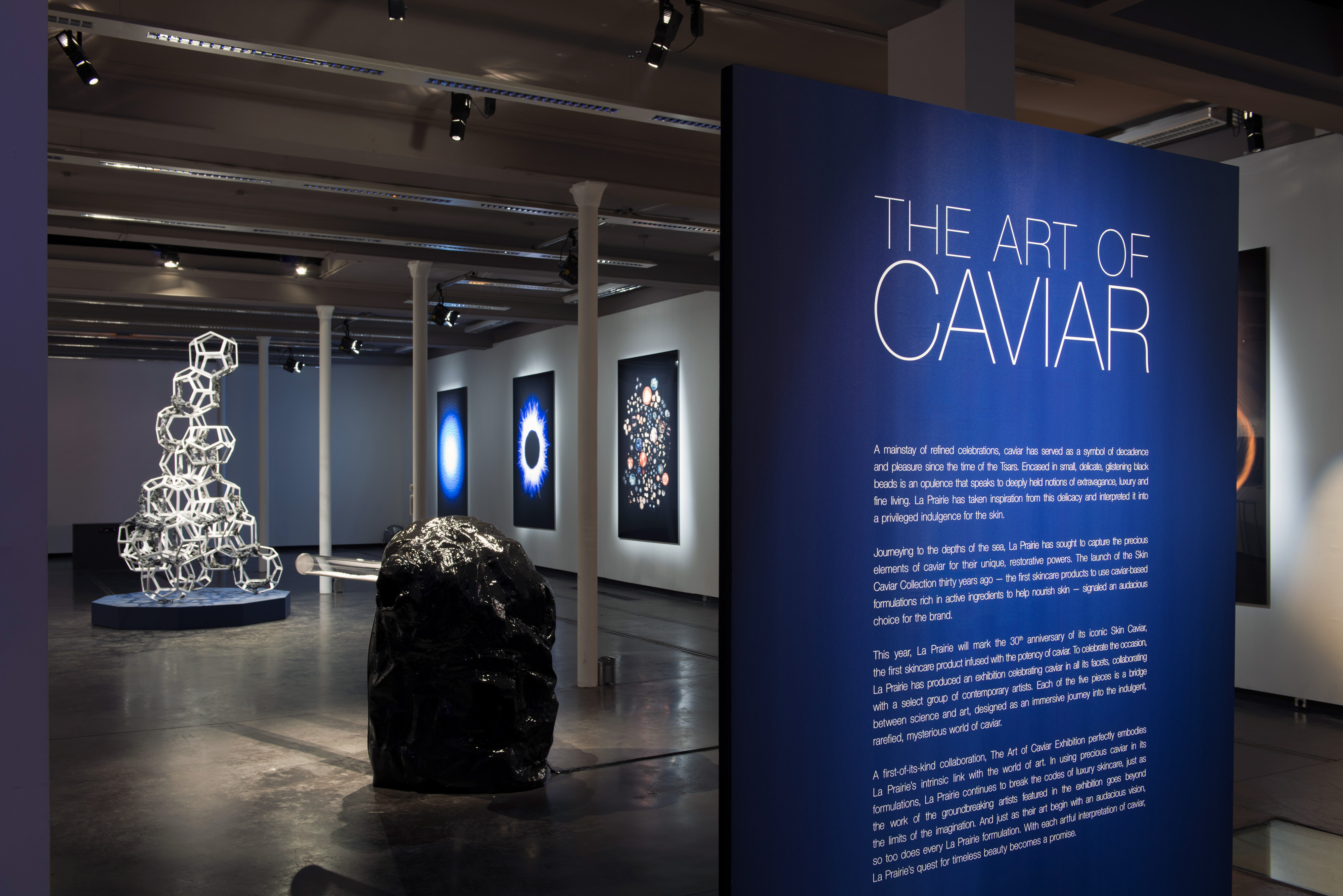 The five valiant art installations will travel to Paris, New York, Hong Kong and Shanghai where visitors will witness art and science coming together in an inspiring and daring union.
Paul Coudamy, Bonjour Lab, Cinq Fruits, TremensS, Paris, Art, Exhibition, Art of Caviar, Contemporary Art