アートと建築
The fascination with the colour cobalt blue
Why the artist's eye continues to gravitate towards the vibrant hue.
Whether to capture the vibrancy and vastness of the sky and sea, or to represent the essence of purity and beauty, the colour cobalt blue has been embraced by artists throughout recorded human history. The first synthetic blue was created in Ancient Egypt in 2200 BC, found on wall paintings, sculpture, furniture, and other objects. One of the earliest uses of cobalt blue can be found in Chinese ceramics dating back to the Tang dynasty, as early as the 7th century, its rare, vivid pigment made from Persian cobalt ores. In fine art, artists like Vermeer, Renoir, Monet, and van Gogh created masterpieces with striking moments of cobalt blue. The colour has even defined the careers of painters, like American neo-classical artist Maxfield Parrish.
A Colour Becomes an Icon
With vast and rich historical examples in which to find inspiration, Modern artists have embraced cobalt blue, examining its conceptual potential. The oeuvre of Yves Klein is nearly synonymous with the colour, the artist famously having claimed the blue sky as his very first artwork. He described his iconic monochrome paintings in the hue as an "open window to freedom, as the possibility of being immersed in the immeasurable existence of colour."
Beyond the French artist's abstract works, he used cobalt blue to create installation, sculpture, and enveloping experiences. Said Nancy Spector, former chief curator at the Guggenheim, "He is renowned for his almost exclusive use of a strikingly resonant, powdery ultramarine pigment, which he patented under the name 'International Klein Blue,' claiming that it represented the physical manifestation of cosmic energy that, otherwise invisible, floats freely in the air."
A contemporary of Klein, Niki de Saint Phalle held a deft and deep understanding of colour's ability to evoke power and emotion. The French-American artist is revered for her voluminous sculptures, immersive environments, and bold use of material. She had an uncanny eye for cultivating vivacity in tints and tones, describing herself as being "intoxicated by these pure magic colours."
De Saint Phalle used hues like cobalt blue to add intensity, accentuation, and joy to her unmistakable assemblages. "If a sculpture of mine can give a moment of joy, a moment of life to a passer-by, I feel rewarded," she said. Her final monumental project, a public, architectural dreamscape entitled The Grotto, features an awe-inducing enclave bathed in cobalt blue. It's mosaic walls, accented with alcoves of her dancing sculptural figures, was inspired by another fan of the spirited hue, Henri Matisse.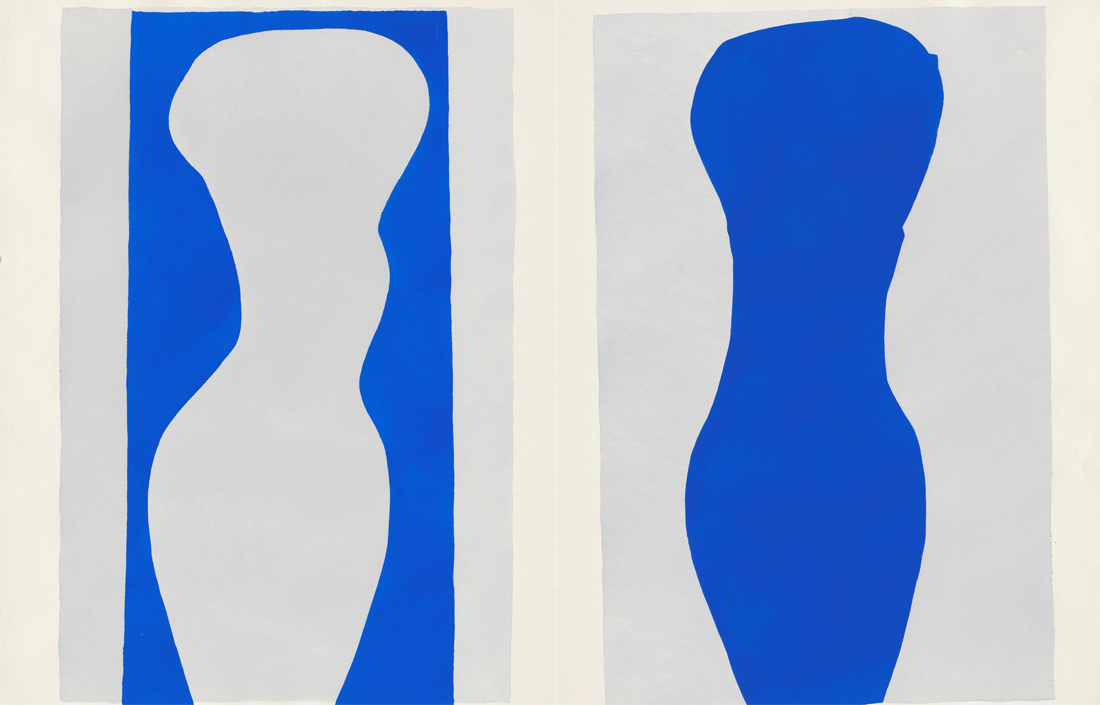 "Forms - Plate IX" from "Jazz", 1943-47, Henri Matisse. Publisher: Teriade Editeur, Paris, 1947. Printer: Edmond Vairel, Paris. The Louis E. Stern Collection. © 2021. The Museum of Modern Art, New York/Scala, Florence. ©2021 ProLitteris, Zurich.
A Hypnotizing Hue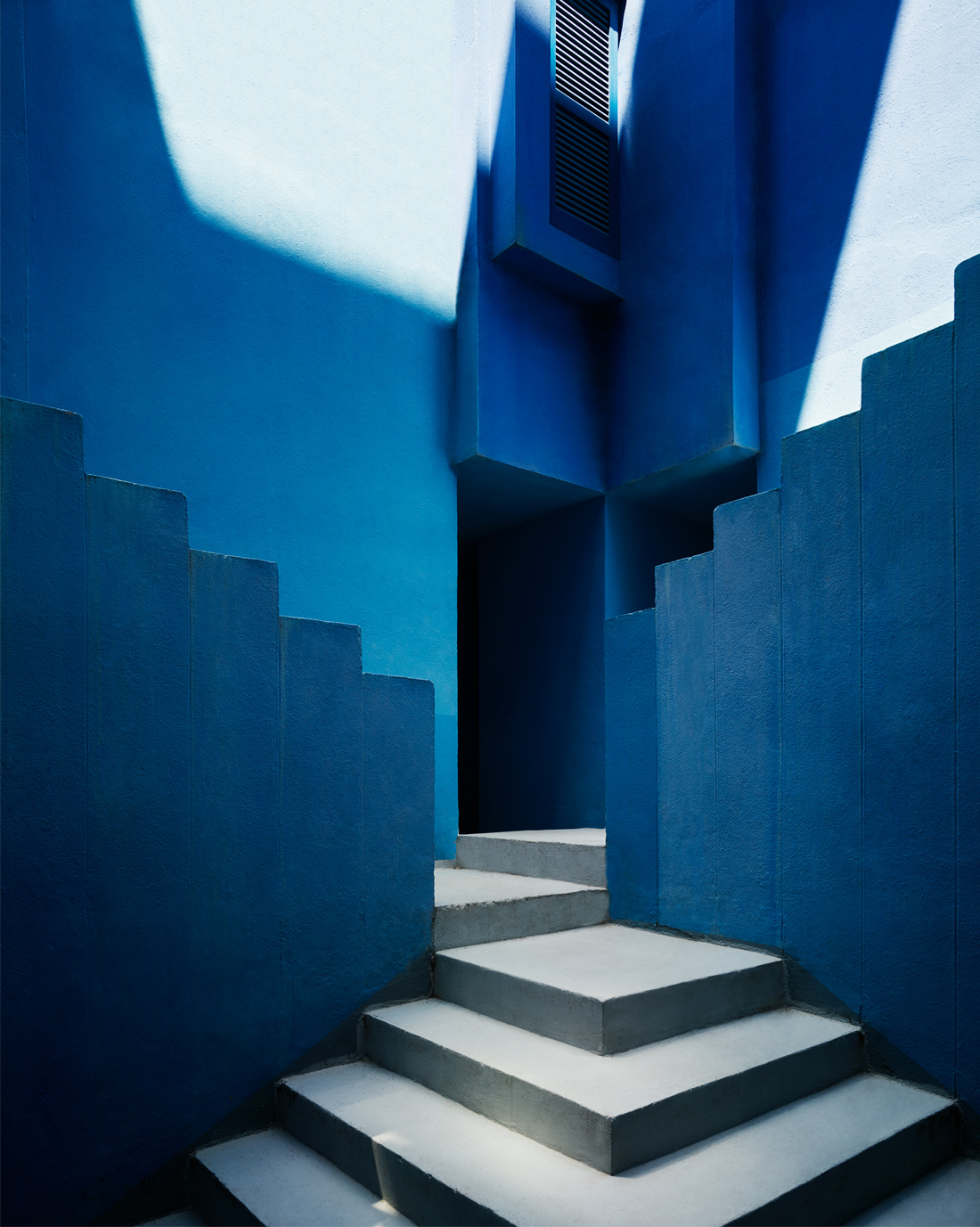 La Muralla Roja by Ricardo Bofill. Photo ©Gregori Civera
Cobalt blue has mesmerizing and transportive qualities, as well, when used by creatives and designers to invoke serenity and transformation. A mid-century modern masterpiece that boasts the bold hue to otherworldly effects is the New York Hall of Science. Originally designed for the 1964-5 World's Fair by Harrison and Abramovitz Architects, an undulating concrete exterior hides an engulfing atmosphere within. Its dizzying pattern of 5,000 glowing cobalt blue panels was intended by the designers to create an endless illusion of space. Inside, this architectural wonder leaves visitors feeling submerged within the mysteries and majesty of the ocean.
Ricardo Bofill's La Muralla Roja offers another maritime-inspired marvel. The Spanish architect envisioned "La Muralla Roja", set against a backdrop of the glimmering sea of the Badia de Calp. It's towering exterior features coral shades, framing an inner maze of azure stairs that dizzy and delight. Bofill used cobalt blue here, alongside the movement of light and the effect of form and shadow, to entrance and enthral.
A leader of the light and space movement is contemporary artist Doug Wheeler. His "light encasements" and "light paintings" play with our perception of space, volume, and colour.He explores ambient light's - notably in examples of glowing cobalt blue—interplay with architecture by designing expansive, transcendent experiences that heighten the senses, and where time and place can disappear.
Be it to capture a cosmic energy, exude a sense of freedom, or transport to another dimension, makers and creators remain enamoured by colour cobalt blue. The distinct shade boundless of evocation and depth continues to captivate audiences and artists alike.
THE COBALT NIGHT
Dreams emerge in obscurity, when surrender to the creativity of night is complete. Night is when life's trivialities fall away, when the elusive unveils itself and creation in crystal clarity becomes possible. It is in this clarity that a single, potent colour, cobalt blue, envelops the dreams of creativity. A colour of femininity, of audacity, of strength, it is a colour that yearns to be brought to life. The colour of life at night – the Cobalt Night. The scientists at La Prairie asked themselves a very simple question. What else might the night unveil? Through extensive research into the mysterious nighttime qualities of caviar, they identified an elusive property that only exists – that only thrives – at night. La Prairie scientists explored the unchartered realms of the night and created a new Swiss caviar incarnation, Caviar Retinol. Embodied in the new Skin Caviar Nighttime Oil, a unique blend of caviar-derived retinol and caviar lipids, Caviar Retinol harnesses the line-smoothing potential of caviar science, beyond lifting and firming.