In 1970, three passionate and determined Basel gallerists — Ernst Beyeler, Trudi Bruckner and Balz Hilt — staged an international art exhibition. It was an immediate sensation, bringing together exceptional artwork from around the world to Switzerland. In that inaugural show, more than 16,000 enthusiasts attended to see art from 90 galleries and 30 publishers representing 10 countries.
Art Basel is now one of the world's major art shows for modern and contemporary works, with unique shows also hosted in Miami Beach and Hong Kong.
Basel continues to be the premier contemporary art fair, and last week nearly 300 of the world's leading galleries descended on the Swiss cultural capital to showcase paintings, drawings, sculpture, installations, prints, photography, video and digital art by more than 4,000 artists. The galleries represented 35 countries and six continents.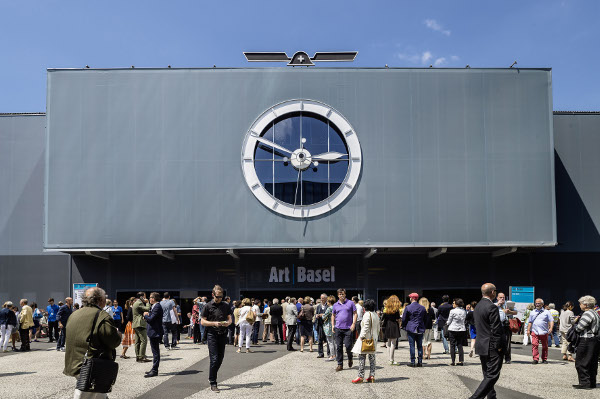 This year, amidst the talks, performances and soirées, visitors were drawn to the beating heart of the fair — the galleries that took over the Messeplatz and offered an array of raw and beautiful pieces, some of which boldly reflected the world's current cultural and political climate.
There was a palpable frisson of excitement as art connoisseurs and buyers from around the world viewed work by such legends as Picasso, Miró and Schiele, along with awe-inspiring contemporary artists at the pinnacle of their careers. These included Swiss artist Urs Fischer who reinvented Rodin's The Kiss with oil-based modelling clay and invited visitors to interact with it. They eagerly pulled off pieces and inscribed their names with it across on the walls.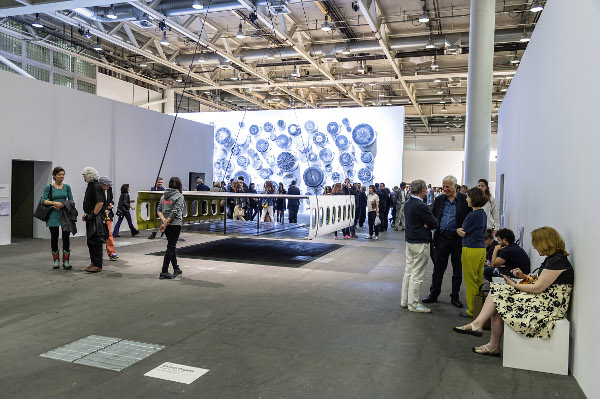 Emerging artists were also celebrated. The Baloise Art Prize, which is awarded annually to two young artists, went to America's Sam Pulitzer and Martha Atienza from the Philippines. Mr. Pulitzer exhibited a series of transparent corridors mounted with playful drawings in coloured pencil inspired by advertising, clip art and popular culture. Ms. Atienza's video installation featured a parade of characters from one of the Philippines' oldest festivals, which she shot walking across a seabed as a critical and humorous take not only on the state of society in her home country, but also on the threat of climate change.
Perhaps the most spellbinding exhibits were the enormous installations in the "Unlimited" section, such as Subodh Gupta's Cooking the World, which featured a shelter made from cooking utensils suspended from the ceiling on fishing lines. Inside, the artist cooked Indian food for those lucky enough to have secured a ticket for the live performance. The sharing of food served as a gesture of inclusion and acceptance.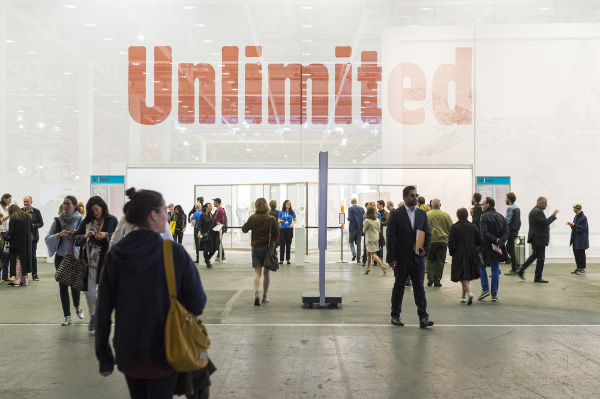 Sue Williamson's large-scale installation featuring bottles each hand-engraved with information about a different slave from the 16th to the 19th century added to the mesmerising spectacle.
Camilla Brown, 63, from Lausanne, who has been attending the fair for the past 28 years, said: "Every year Art Basel gets better and better, and this year is absolutely astonishing. There's super strong energy. Everyone can feel it.
In her mind, this was Art Basel's strongest year.
All these fantastic pieces give you so many emotions," said Ms. Brown. "The visitors are amazing too. It's quite a show to sit and watch them – they're a performance in themselves. I've been here for three days and you get a bit drunk on all the emotions you feel from everything you see.
And galleries were not the only ones showcasing electric works of art this year.
In a first-of-its-kind partnership, La Prairie — whose innovative spirit and passion for audacity mirrors the world of contemporary art — partnered with Art Basel to invite guests inside its rarefied world of timeless beauty.
Part of the fair's VIP Lounge was transformed into a transcendental La Prairie universe, where guests enjoyed customised treatments next to an audacious installation by Paul Coudamy, who was commissioned to celebrate the 30th anniversary of the brand's iconic Skin Caviar.
For his steel sculpture, entitled Living Cells, the French architect and artist uses volume to masterfully interpret La Prairie's latest groundbreaking innovation, Skin Caviar Absolute Filler.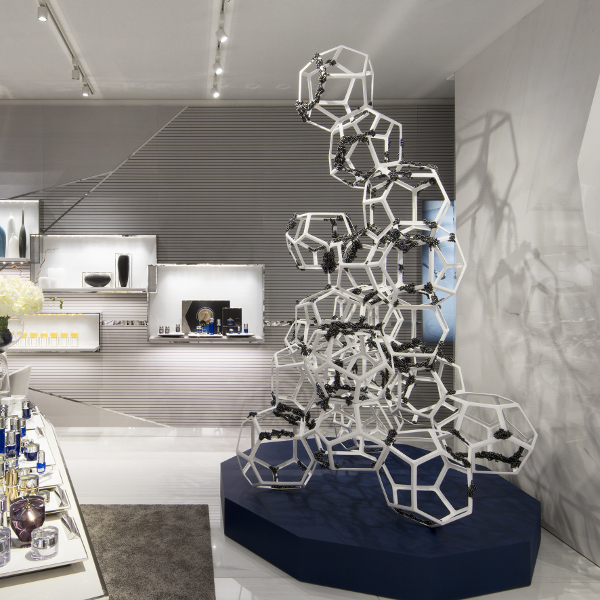 Inspired by the Weaire-Phelan structure, a mathematical formula of a complex three-dimensional form representing foam bubbles of equal size, Living Cells is comprised of lustrous black, magnetised marbles — reminiscent of caviar, another nod to its muse. The installation's captivating form and spiral structure seemed to be in constant flux, transcending its surroundings and striking awe amongst viewers.
The installation echoed the culmination of the worlds of art and science seen throughout Art Basel this year.
Art Basel, art, skincare, Basel, Paul Coudamy, Living Cells, Skin Caviar Absolute Filler