What disparate threads, insights and ingenuity come together in the making of a masterpiece? Be it a painting, viewed by millions through the centuries, a work of architecture that reimagines what a functional structure can be or a sculpture that alters the way in which a society understands itself, what are the elements necessary to elevate a creation to a masterpiece?
"It became evident that it is extremely difficult, if not impossible, to articulate a definition of masterpiece that could be accepted universally," former Louvre director Henri Loyrette wrote, in the catalogue for "The Louvre and the Masterpiece," a 2009 exhibition at The Minneapolis Institute of Arts.
Certainly, a precise summary may be hard to grasp. But we know that they are gifts to us all, objects which live beyond the limits of time. They are different anything that has come before. They teach us something new, they speak of a place in time and culture, they communicate with us in a unique way.
The Mona Lisa is the example that comes most quickly to mind. There are countless Renaissance portraits. And yet, the mystique of the seated, dark-haired woman's smile has rendered Leonardo da Vinci's work one which has intoxicated experts and mere observers alike. According to Louvre Curator Jean-Pierre Cuzin: "The entire history of portraiture afterward depends on the Mona Lisa. If you look at all the other portraits… if you look at Picasso, at everyone you want to name, all of them were inspired by this painting."
This influence and intrigue, refracted through the centuries, is surely a mark of a true masterpiece. From questions of her true identity to revelations of the original brush strokes hidden under the painting's many layers of pigment, the Mona Lisa has never ceased to surprise. But this intriguing quality alone is not enough to make a masterpiece.
One could argue that a masterpiece begins by breaking the mould. The convention-shattering Bauhaus School of Design, for example, with its stark focus on the removal of all but the necessary, favouring minimal lines and clean finishes – so very different from the other, grander architectural and decorative conventions of the early 20th century – resulted in ground-breaking structural design, as seen in the iconic minimalist Villa Tugendhat in Brno, in the Czech Republic.
The aesthetic principles of the Bauhaus movement's first director, Walter Gropius, as well as those of his successors, Hannes Meyer and Ludwig Mies van der Rohe, reverberate around the globe today. They are evident in the 20th-century tower blocks of Europe, with their lack of adornment and dedication to simplicity. And yet, in the beginning, the Bauhaus school of faced persecution by conservative political powers, fearing its radical innovation and commitment to new ways of thinking.
Perhaps the most startling paradox of a true masterpiece is the way in which it is both iconic - endlessly depicted and referenced - and yet forever mysterious. Imagine the infinite replications of symbolist Austrian artist Gustav Klimt's 1912 Portrait of Adele Bloch-Bauer I, also known as 'The Lady in Gold' - forever followed by questions as to the exact nature of the painter's relationship to his muse.
In this case, the curiosity stems – at least in part – from the resplendent use of shimmering tones:
"The golden image of Adele Bloch-Bauer I cast a spell over me even as an art history student," said Dr. Tobias Natter, Vienna-based art historian.
It could also be due to the unique historical context in which the piece was produced when women were striving for educational and social freedom.
"Gustav Klimt's brilliant artistic career coincided with a period of profound cultural, social and political ferment that witnessed fundamental changes in the position women occupied in society," notes writer and curator Dr. Jill Lloyd, in Natter's 2016 book Klimt and the Women of Vienna's Golden Age, 1900–1918.
This curiosity about both the techniques used and the social context in which the work was produced highlights its status as a masterpiece.
Be it through its mystery, its influence, its beauty or its context, a masterpiece above all tells a story – of what has been and what is now. It draws lines from those who came before to us in our present world, from each individual to the other, through shared values and appreciation for the timeless.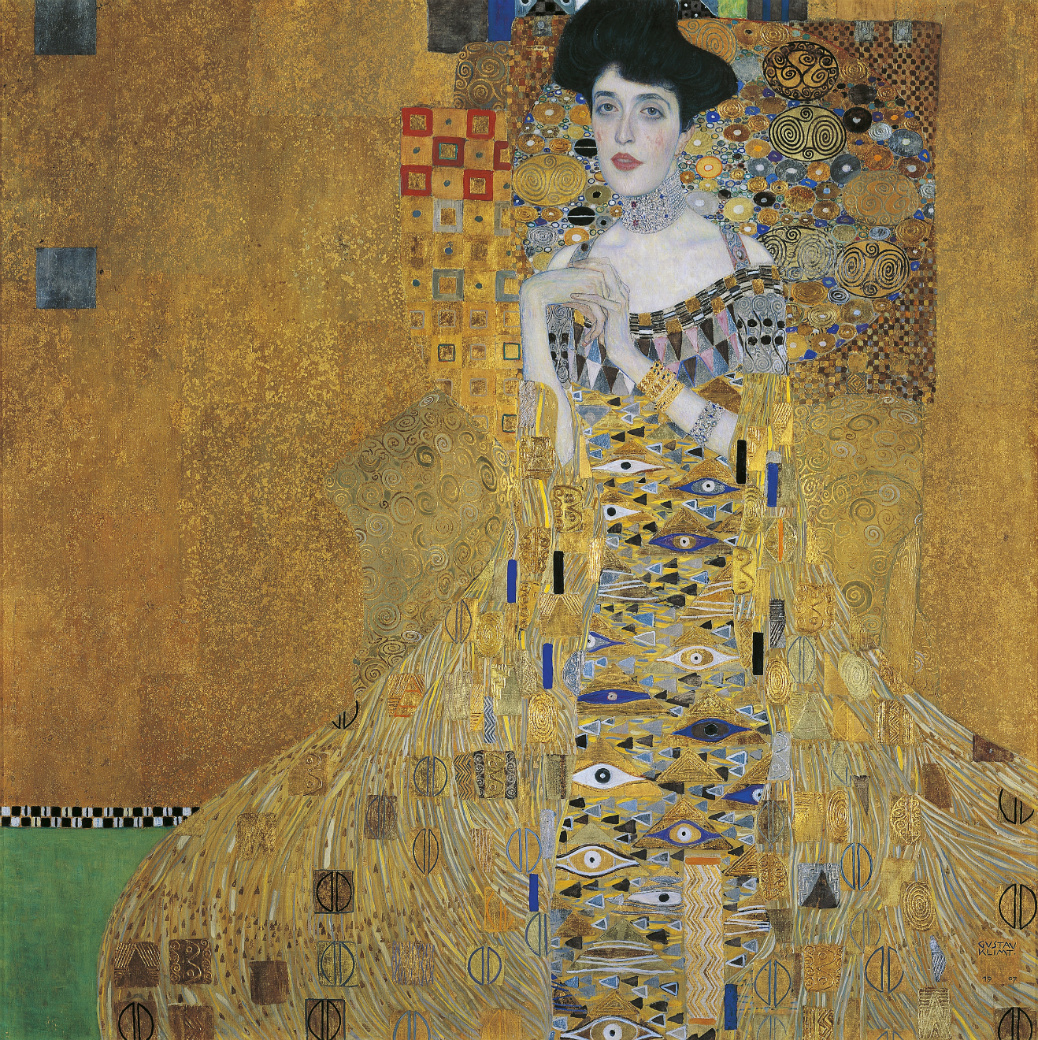 Portrait of Adele Bloch-Bauer I, 1907 (oil, silver & gold on canvas), Klimt, Gustav (1862-1918) / Neue Galerie, New York, USA / De Agostini Picture Library / E. Lessing / Bridgeman Images
Art, Masterpiece, Gustav Klimt, Bauhaus