Art and Architecture
THE IMPACT OF SWISS ART
The Formation of Enduring Visual Cultures
Despite its inherent minimalist approach, often delicate nature, and irresistibly understated manner, Swiss art has wielded an influence that has led to an almost constant presence in the world today. From bold and iconoclastic conceptual art to peerless graphic design, and from forging new horizons in performance art to the perfection and precision of Minimalism, many of the most creative currents of twentieth and twenty-first century art can be traced back to Switzerland, and to the norms and culture that define the Alpine nation.
The reasons for this are many. Switzerland holds tightly to traditions of freedom, fearless authenticity, and proud neutrality in the face of turmoil and adversity. Such national values consistently established the country as a welcoming port for artists from an array of backgrounds and artistic schools, formulating a hub which would give rise to movements as diverse as Nabis, Expressionism, Dada, and Fluxus. Switzerland's central location allowed artists to reach out across Europe and the wider world, exporting pioneering new ideas and stylistic flourishes which would take on a life of their own. In this way, they outlined and informed the way contemporary art would be understood, explored, and created to this day.
UNIQUE APPROACHES, REMARKABLE RESULTS
The Swiss Alps, with their majestic vistas, verdant valleys, and timeless glaciers, have always provided a wealth of inspiration for those in the pursuit of beauty. It should come as no surprise, therefore, to discover that no shortage of artists have found their muse in the snow-capped mountains and vibrant meadows of Switzerland's natural landscapes. Nabis painter and printmaker, Félix Vallotton, spent a lifetime reproducing the colours of Swiss nature in his paintings, with works such as 1895's Clair de Lune encapsulating the tranquil stillness of the lakes, in a style which hinted at the minimal modernism to come. The darkness of the valleys' winter plumage, and the introspection encouraged by the bleaker aspect of Swiss nature and its copious ice and snow, also made its presence felt via the visions of Switzerland's early 20th century artists. Albero Giacometti, whose distressed figurative sculptures were typically emaciated and imbued with a sense of loneliness and solitude, claimed to find inspiration in the long winters of his Alpine home. Conversely, the almost unreal and dreamlike hues of green, blue, purple and pink present in the works of contemporary photographer, Pipilotti Rist, present an opposing yet similarly unique notion of Swiss pastoral life. Neither approach, quite simply, could have arisen from anywhere else.
While the natural world invariably played a vital role in the creation of Switzerland's artistic landscape, perhaps the country's most enduring contribution to the realm of fine art arose as the result of altogether more human circumstances. The year 1916 fell in the midst of a period of unprecedented unrest in Europe and across the globe, and the Swiss principle of neutrality led to the country becoming home to a new population of artists and free-thinkers. The newly-arrived denizens of the local art scenes, bolstered by a jubilant new-found freedom, quickly integrated with Swiss-born creatives, such as Meret Oppenheim, Sophie Taeuber and Alice Baill. The result of such meetings led to the creation of the Cabaret Voltaire, the first incarnation of what would become the Dada movement. The Dadaists expressed pointed social criticism through the medium of absurdism, utilising stream-of-consciousness poetry and live performance pieces, readymades, and often challenging and disquieting artworks. Their approach, their ferocious independence, and their willingness to explore the human psyche, the surreal nature of conflict, and the boundaries of what is and isn't art not only withstood the test of time, but laid the foundations for a new generation of native and adoptive Swiss artists keen to expand upon their ideas.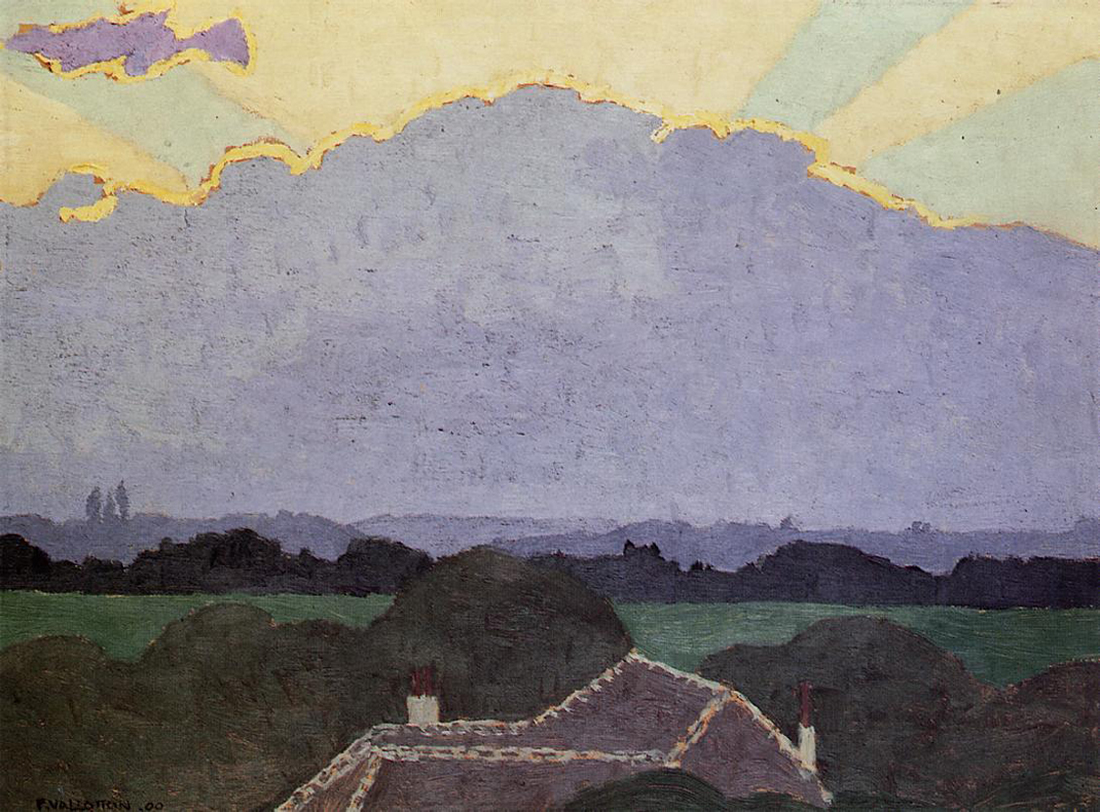 Cloud at Romanel, 1900, Félix Vallotton.
SWISS ART BEYOND BORDERS AND BOUNDARIES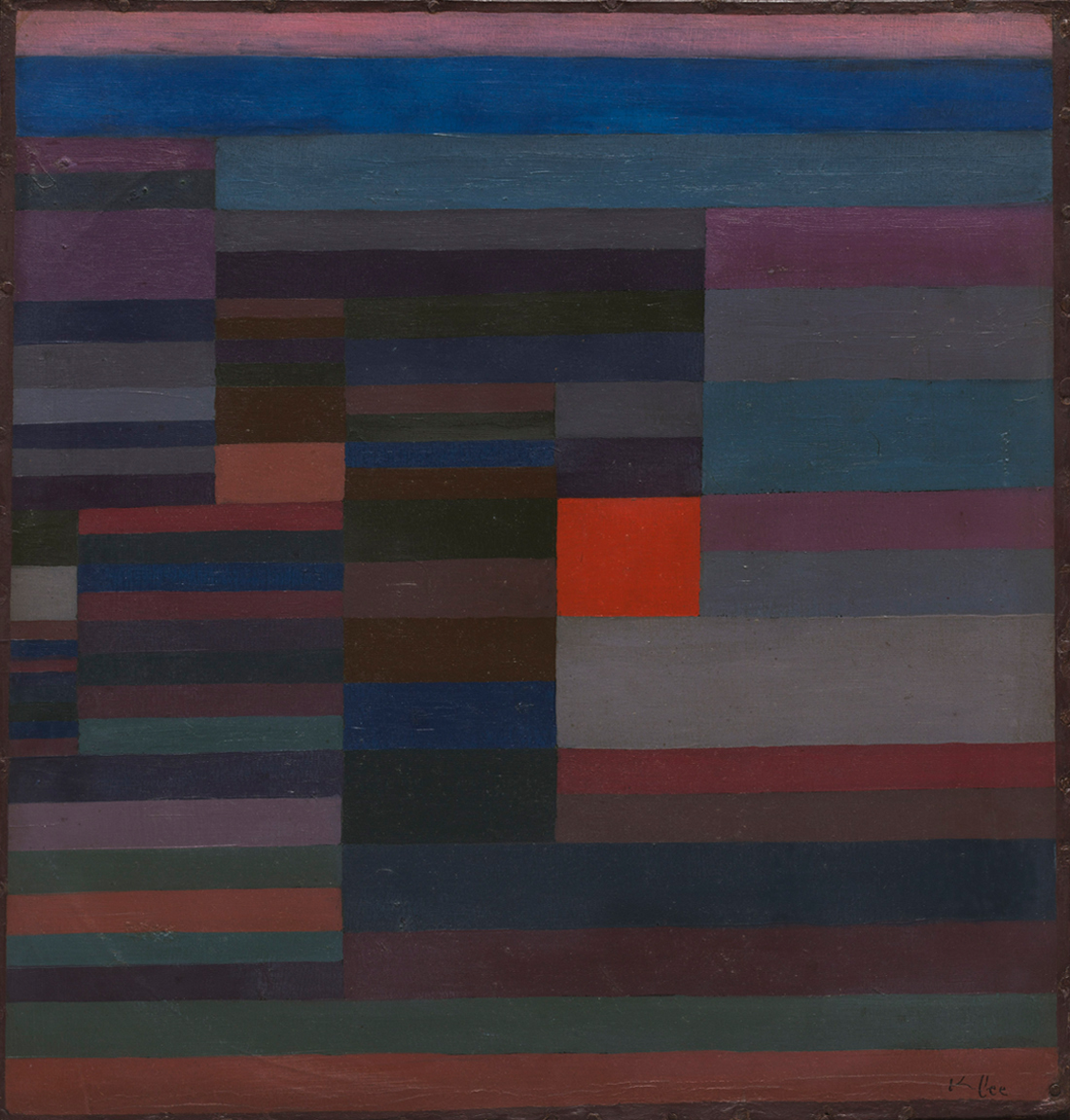 Fire at Evening (Feuer Abends), 1929, Paul Klee. Mr. and Mrs. Joachim Jean Aberbach Fund. © 2020 The Museum of Modern Art, NewYork/Scala, Florence.
From the Alpine regions to the rest of the world, the originality and exploratory spirit of Swiss creation permeated each layer of almost every imaginable twentieth century art scene, going on to shape myriad movements and artworks to this very day. This remarkable international ascendency began, of course, in Weimar Germany, where the likes of Paul Klee, Le Corbusier and his cousin and mentee Pierre Jeanneret, taught at Bauhaus, recreating Modernism in bold lines, primary colours, and thrilling new forms. Known for his distinctively individual style and his explorations of colour theory, Klee equally influenced the Surrealists, most notably Max Ernst and André Breton, cubist painter Joan Miró, and the Russian expressionist and Bauhaus stalwart, Wassily Kandinsky. As for the Jeanneret cousins, they radically transformed cities from Brasilia to London, Chandigarh and Marseille through their thoroughly original ideas on urban planning, architecture and furniture design.
Switzerland's influence can also be felt in photography, thanks to Swiss photographer Robert Frank, whose work includes many of the most iconic Americana images of all time. Frank's book, "The Americans", helped define an enduring national sense of aesthetics in the United States, resulting in no small part to his essentially Swiss attention to detail, and his eye for a sharp and iconic composition. It is arguable, however, that nothing more neatly and concisely exemplifies the global impact of Swiss art than graphic design, and in particular, the ubiquitous Helvetica typeface. Imbued with the "form follows function" philosophy that provides the cornerstone of Swiss architecture, and possessing the signature minimalism and rationalism of other Swiss design masterpieces, Helvetica grew to become one of the most widespread and instantly-recognisable fonts on the planet. In its glorious understatement, it possesses a remarkable semiotic power and potency. In its simple lines and sans-serif starkness, it encapsulates the same Swiss artistic values that have shaped visual culture as we know it.
A SWISS VISION OF BEAUTY
As a quintessentially Swiss brand deeply rooted into the artistic heritage of its country of origin, La Prairie pursues its commitment to respect, preserve and give back to its inexhaustible source of inspiration – the singular beauty of Switzerland. To that end, La Prairie commissioned Swiss artist Douglas Mandry to produce a series of images of Swiss landscapes that highlights the beauty of Swiss nature and its inherent fragility. The visuals created by Mandry invite the viewer on a non-linear narrative through Swiss nature, journeying somewhere between dream and reality. The striking artworks have been made available for auction thorough Artnet, benefiting the ETH Zurich Foundation. ETH's Department of Glaciology is internationally recognised in the field of glacier studies and a nominee of numerous scientific awards and honours for outstanding contributions to the field of glaciology. Their pioneering work in the field of climate studies, glaciology and environmental conservation is shared with La Prairie's overarching commitment to protecting and preserving its land of origin.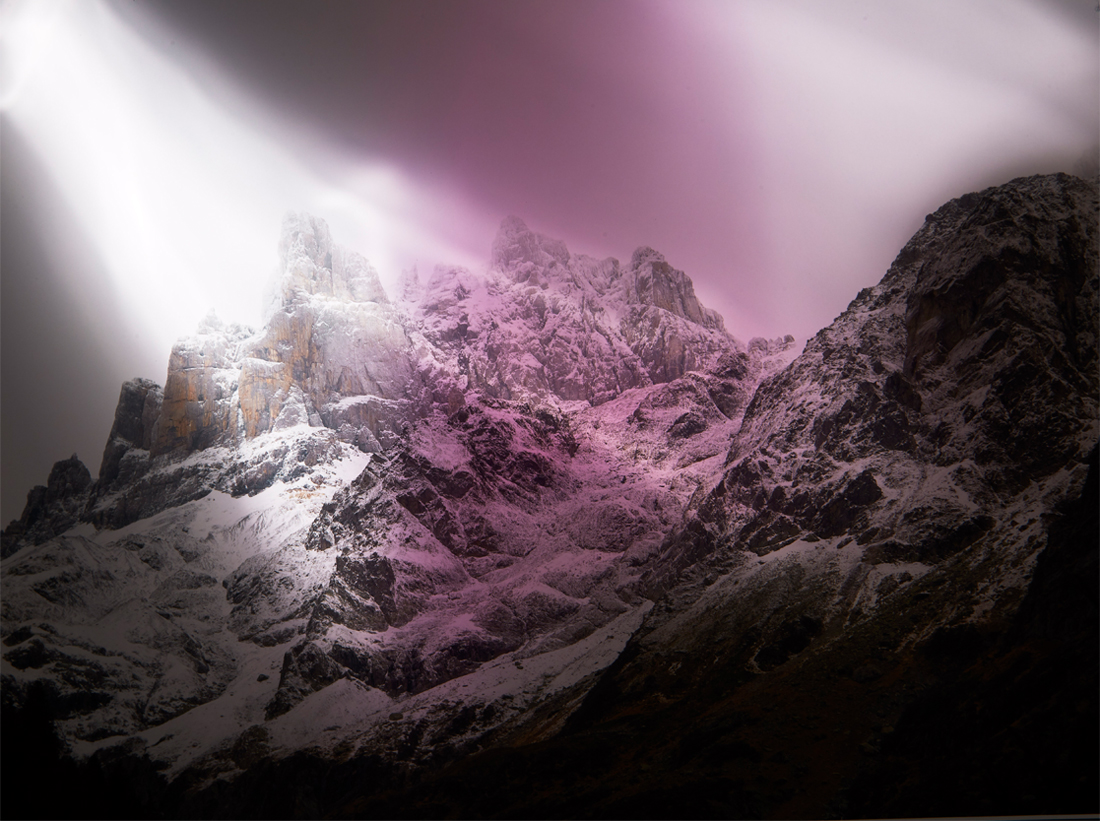 Light Beam Over Titlis, 2020, Douglas Mandry.