Art and Architecture
The artistic dream of Niki de Saint Phalle
The lasting legacy of an artist who created a world of her own
Vivacious dancing female figures, slithering serpents twisting in spirted hues, patterns of striking stripes, blocks of bold colour, and flourishing flowers are but a few of the energetic emblems of Niki de Saint Phalle. The French-American artist (1930-2002) created a visual language all her own that remains immediately unmistakable and equally beloved.
Her vivid use of colour, voluptuous forms, and exuberant environments offered a chance for revelry, transformation, and fantasy. The interdisciplinary practice that defines Saint Phalle's trailblazing career has had a lasting impact on the canon of modern and contemporary art and has undoubtedly inspired current and future generations of feminist and activist makers.
Empowering the Female Figure
From her earliest endeavours, be it electifying live performances or galvanizing "Shooting" paintings, Saint Phalle proved cleverly capable of captivating the art world. She embodied feminism in mind and spirit, infusing her practice with an empowered point of view. The artist knew her worth and very much had something to say. "We have completely other roles and possibilities. I think women could administrate this world much better. A new world of joy," Saint Phalle said.
In the mid 1960s, she began making large-scale sculptures which celebrated womanhood within the frame of the female form. Her Nana figures accentuated the feminine body's features, breathing new life into its shape through her choice of lively colour choices and patterns teeming with life. They are lasting totems to the feminist spirit.
Her practice and her own magnetic appeal moved well beyond sculpture, growing to prolifically include books, gardens, architectural projects, films, theatre sets, clothing, jewellery, and even perfume. "I'm following a course that was chosen for me, following a pressing need to show that a woman can work on a monumental scale," said Saint Phalle.
It is her Nana sculptures that have perhaps left the most lasting impression on the art world, challenging traditional ideas around the female body and role of women. "I dreamt of huge colourful Nanas that could stand outside in the middle of a park or a square—I wanted them to take charge of the world," said Saint Phalle. Her belief in putting forth exultant monuments to women paved the way for contemporary artists to thrive today, emboldened to present public pieces that command attention, embody dignity, and project their presence.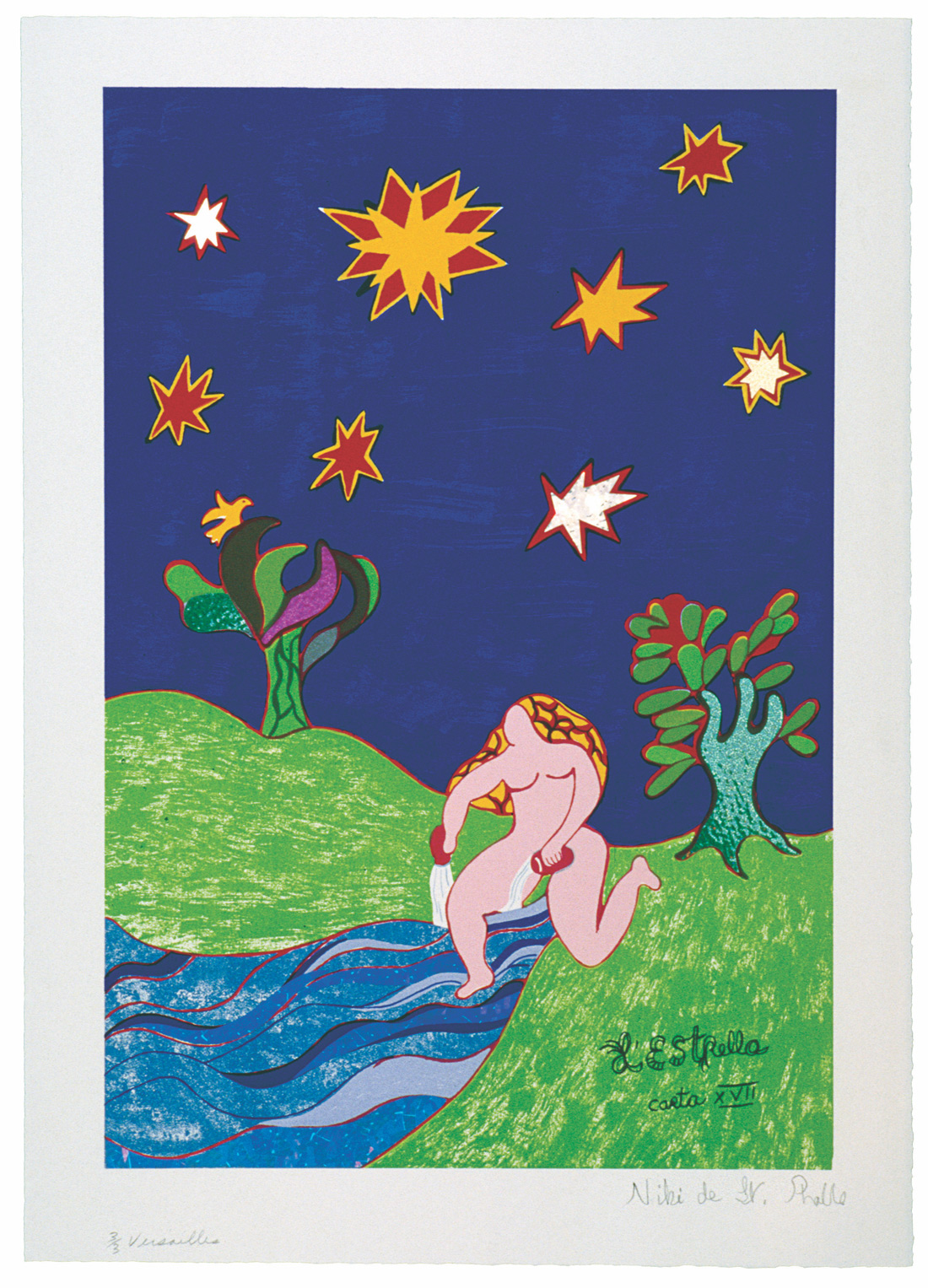 Niki de Saint Phalle. L'Estrella Carta No. XVII (The Star). 1997. Lithograph and collage elements. Photo ©2021 Niki Charitable Art Foundation.
Inspiring the Public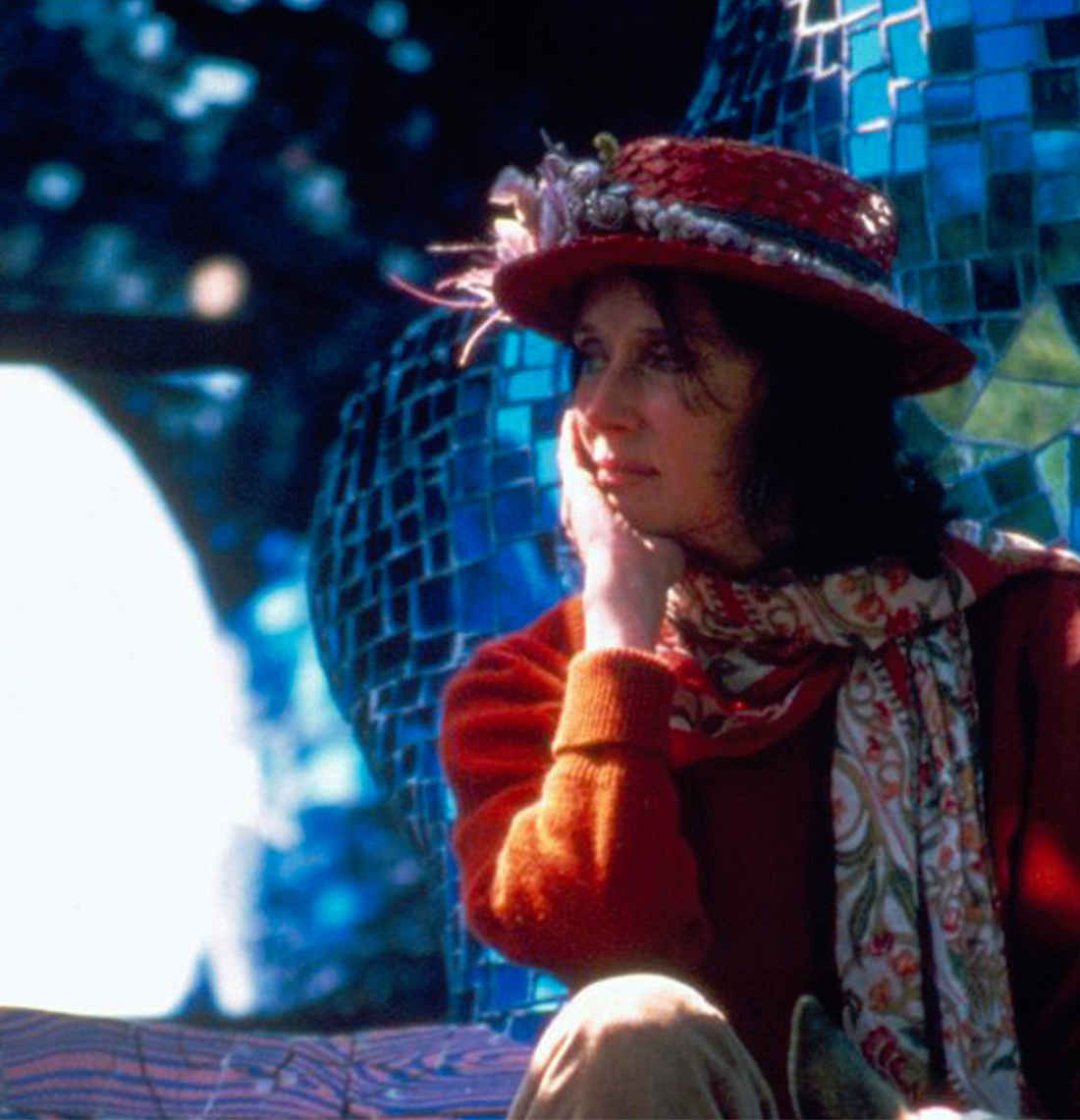 Niki de Saint Phalle at Tarot Garden, Garavicchio, Italy, 1980s. Photographer unknown.
Saint Phalle was beautifully ambitious. She was unafraid to make on a grand scale, leaving behind objects and places of permanence. Some of her later endeavours, "Grotto" and "Tarot Garden" are architectural, immersive marvels that remain and persistently inspire. "I wanted to make some of the really important things of my generation and some of the biggest," said Saint Phalle.
She was friends with artists like Brancusi, Les Lalanne, Yves Klein, Larry Rivers, and others—notably male and in an art world with few female examples of success. Saint Phalle met that uneven playing field head-on. Establishing an engaging dialogue with her creative contemporaries, Saint Phalle remains a reference to today's artistic emerging class, continuously noted as the source of ongoing inspirations and rediscovery. Saint Phalle saw art as a means to collaborate and engage—with the public and fellow artists. Her exploration of material and medium, as well as using her projects as a vessel to discuss social, environmental, and political concerns with a broader public, we can see embraced in the practice of so many contemporary artists today.
Saint Phalle didn't shy away from confronting the events of her time, becoming an outspoken advocate and champion of a variety of pressing issues. "Most people don't see the edginess in my work. They think it's all fantasy and whimsy," she said. Yes, Saint Phalle's legacy is one of joy and effervescence—but those are qualities and characteristics the artist employed in reaction to the inequality, inequity, and discrimination she, and so many, encountered throughout her life. Her output of exuberance was a choice in defiance, challenging the world by saying, if you will not celebrate us, at least I will.
A Pivotal Encounter Infuses the House with Colour
The work of Niki de Saint Phalle has a particular resonance for La Prairie as it was her striking use of cobalt blue that was the inspiration behind La Prairie's iconic Skin Caviar Collection colour. In 1982, Niki was developing her eponymous fragrance from her atelier in a shared design studio in New York where La Prairie's team would often engage in creative exchanges. When La Prairie encountered Niki de Saint Phalle's cobalt blue – her favourite colour that she describes "as the colour of joy and luck" – the link became clear: only cobalt blue would do. A fortunate encounter that would spark a bond with the House of La Prairie and seal it forever.
Almost forty years since the encounter, La Prairie continues to celebrate the artistic legacy of Niki de Saint Phalle by partnering with MoMa PS1 in New York to support the most substantial exhibition in the US. On view from March 11 to September 6, 2021, "Niki de Saint Phalle: Structures for Life" features over 200 works created from the mid-1960s until the artist's death, including sculptures, prints, drawings, jewellery, films, and archival materials. Highlighting Saint Phalle's interdisciplinary approach and engagement with key social and political issues, the exhibition will focus on works that she created to transform environments, individuals, and society.
Through this patronage, La Prairie honours Saint Phalle's audacious and visionary feminist spirit – her defiance of social norms and her willingness to break the codes both in her personal life and work.