Art and Architecture
MAJESTIC MATTERHORN:
BEHIND THE LENS
A SYMBOL OF ETERNITY AND AUDACIOUS BEAUTY
Such is the mountain's breathtaking allure, it has been an inspiration to countless artists for centuries. John Ruskin, the great Victorian art critic and social commentator, declared it "the most noble cliff in Europe". He not only painted the Matterhorn, he also took the first photograph of it in 1849.
The majestic mountain continues to captivate artists and audiences today. Nenad Saljic's haunting black-and-white photographs of the mountain have earned him two National Geographic Awards, and resulted in the honour of being named Professional Landscape Photographer of the Year at the 2013 Sony World Photography Awards. Nenad, who was born in Croatia, became enraptured with mountaineering on a school hiking trip when he was only 12 years old. Seven years later, he climbed Mont Blanc. But it wasn't until his 40s that Nenad first set eyes on the bewitching Matterhorn Mountain.
"That was love at first sight," admitted Nenad, who now lives in Zermatt, which boasts arresting views of the mountain. In 2009, he first began photographing the Matterhorn, a project that lasted several years until 2015.
MATTERHORN: PORTRAIT OF A MOUNTAIN
The fulfilling endeavour resulted in several thousand portraits and his book "Matterhorn: Portrait of a Mountain." It features 43 black-and-white duotone photographs accompanied by a timeline of the most significant events in the Matterhorn's history.
"There are several aspects of the Matterhorn that have attracted me," Nenad pronounced. "Artistically, it is one of the world's most magnificent mountains – with its pyramidal shape and solitary position it could be considered an ideal mountain. The Matterhorn even produces its own banner clouds due to the special atmospheric conditions."
Nenad is also attracted to its rich history. The Matterhorn had long been deemed inaccessible, and it remained unclimbed long after most of the other great Alpine peaks had been reached. Edward Whymper finally conquered the mountain in 1865, marking the end of the golden age of Alpinism.
"The triumph and tragedy of this feat mark the epitome of our human desire to explore and venture beyond our limitations, simultaneously reminding us of how great and how small we are," asserted Nenad. "The Matterhorn is a product of geological processes that transcend human beings and our concept of time."
A trained mountaineer and caver, he has never climbed a mountain that has had such a pull on him. "I think there is a Buddhist saying that the best view of a mountain is not from the top, because once you are on the summit you cannot see the mountain itself. This is a nice philosophical excuse, at least," he stated. Eternally captivated, Nenad finds that time gradually slows down when he is working, and eventually seems to stop entirely.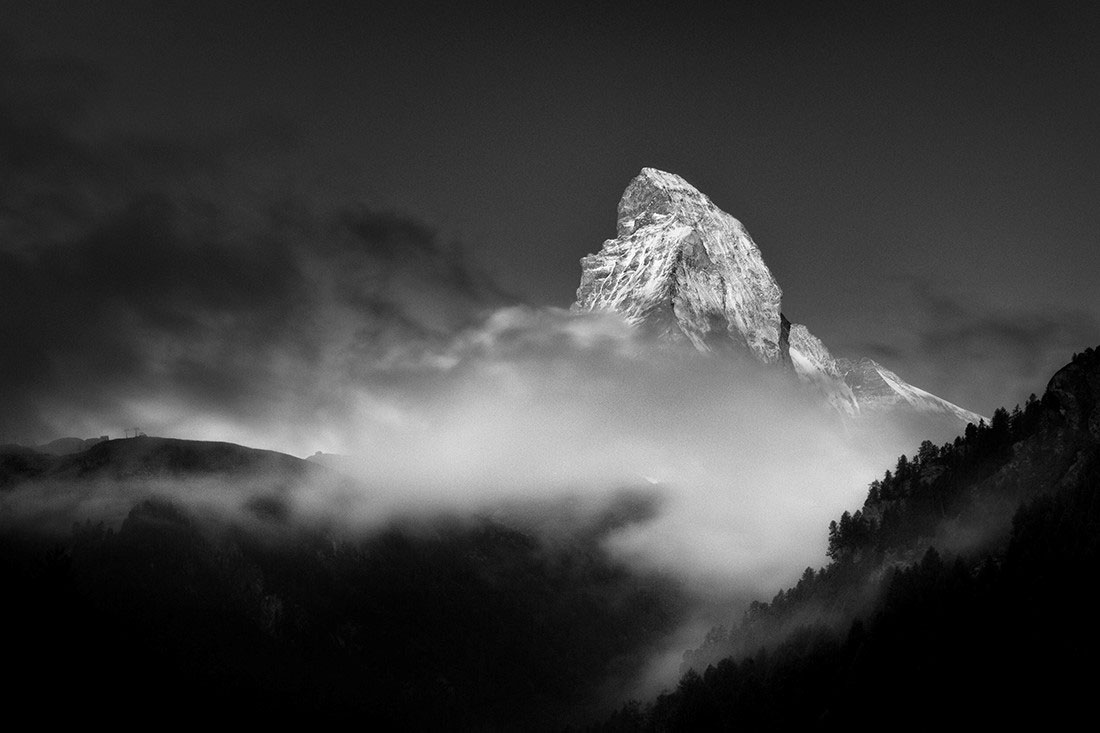 Photo credit: Nenad Saljic.