Violet
Under the eye shadows, a dark violet hue appears. Due to haemoglobin from brittle blood capillaries – it appears violet as it is low in oxygen. This is particularly visible under the eyes where the skin is very thin.
Red
Exposure to external stress factors such as UV rays, irritants, and free radicals can lead to inflammation and dilatation of the capillaries in the skin's deeper layers. Skin appears red and uneven, with its natural light dimmed.
Yellow
Oxidative stress due to excessive free radicals can lead to protein degradation, including collagen glycation in the dermis, the result is an unhealthy-looking, yellow cast that diminished skin's inner light.
Brown
With exposure to the sun's UV and infra-red rays and blue light emanating primarily from digital screens, melanin production in the epidermis can be accelerated, resulting in brown spots that reduce the skin's natural luminosity.
Grey
Dust and pollution accumulate on the skin's stratum corneum, the upper-most layer of the epidermis, creating a superficial veil of particles that diminish the natural, healthy-looking light of youthful skin.
The White Caviar
Science
The White Caviar
Science
The White Caviar
Science
DECIPHERING COLOUR
Skin's colour spectrum is made up of naturally occurring pigments associated with different skin layers. With age, these pigments become more pronounced, diminishing the natural illumination of the skin.
Interact and learn how chromatic disturbances affect skin luminosity
Scroll to explore each chromatic disturbance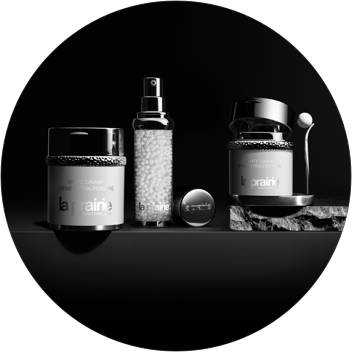 THE WHITE CAVIAR EXPERIENCE DECODED
To provide extraordinary illumination to the skin, the scientists at La Prairie developed a full ritual that diminishing chromatic disturbances and increasing light reflection.